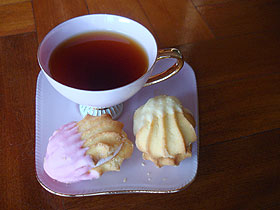 weekend teacup blogging
i think this is starting to become an affliction. i was at the rozelle markets yesterday, and when i said, "i think i'm going to buy that pink teacup", the kid responded immediately, "but you already have the green teacup". that's how bad it is.
but it was $15, less than half the price of the ones i saw in the dusty window of a dusty antique shop in glebe. this (and, ok, a couple of orphaned saucers) were from a woman who said she had moved on to other things, and was purging her personal collection. she had wild hair and a crazy rainbow wooly jumper. bloody hell. i could become that woman.
so no more teacups.
the biscuits, on the other hand… these beauties were from christopher's cake shop at taylor square. delicate shortbread sandwiched with sugary icing and dipped in coloured chocolate. the pink one is strawberry flavoured, and the yellow one a most engaging lemon.
these i will be back for, oh yes.