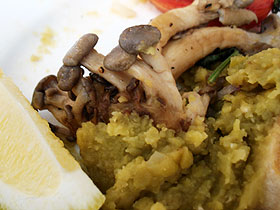 cleveland street, abercrombie, parramatta road. these are awful, awful streets along which to walk, urban grit to the extreme. but last thursday, i walked up to the cleveland end of abercrombie, and friday, i walked a good way down parramatta road, all on the promise of a good breakfast.
i'd heard about cafe giulia from a couple of people: one who'd just walked past and peeped in, and one who goes there lots — both had only good things to say. so on thursday i found myself sitting across from the little matchbox girl (the one who goes lots), across from the counter running the length of the old butcher's shop. the handwritten menu board behind it was about as long too, and had so many options scribbled onto it as to be unhelpful (but, y'know, in a good way).
i saw a plate of waffles go by — tall slabs of 'em, crowned in bananas and doused in syrup. on the menu, there was a version that came with stewed rhubarb and mascarpone. i wanted it! but, it turned out, not as much as i wanted the breakfast special that morning: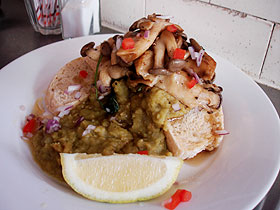 shimeji mushrooms with sage butter, fava beans and home-made sourdough toast. "the special," announced the waiter when he finally brought them to the table, quite some time after matchbox girl's had arrived, "…because you're special."
and truly, i did feel special. the mushrooms were wonderful — whole clusters, cooked so that they were caramelised and crunchy on the edges, and slippery, salty and buttery everywhere else. the fava beans, surprise! came as a mound of well-seasoned mushy peas. it was all the kind of delicious that makes you (me) want to weep with joy.
i didn't, though. just poured myself another cup of house-blended chai. all the clatter and chatter reverberating off the white tiled walls was doing my head in.
the next day, it was only slightly less noisy at deus cafe, the overwhelmingly art-directed sidecar to the deus ex machina bike shop. it's a huge space, dark and moody, with a dramatic wall of painted numerals, and lots of wood, and more than a handful of young professionals in black plastic-framed spectacles having business meetings, or working on their shiny macbook pros. right in the center of the room, at the plywood table shaped like a giant O, there was me, waiting for singapore girl to amble her way down missendon road.
it was about 10.15, when i asked the guy behind the counter if it was too early for the lunchtime menu. "it depends," he said, "on which items… and who's asking. go on… charm me."
but it was too early for charm, and it turns out, too early too for the poached salmon salad with fennel, potatoes and roquette, and for the deus dog — lamb sausage with tzaziki and tomato confit and chips (too early, specifically, for the chips). i resigned myself to the breakfast crepes with caramelised bananas, mascarpone and maple syrup.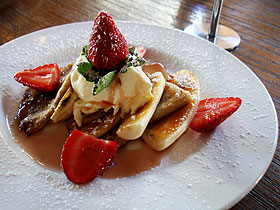 so. good.
i'm guessing the crepes were made with buckwheat flour. they were slightly chewy, with a lovely nutty flavour, and alas, there were too few of them. four, if you must know, but i'd rather it had been six. singapore girl had warned me that she thought the serving too small when she'd ordered them previously; meanwhile, her deus breakfast — fried eggs, sausages, bacon, spinach, mushrooms, toast — threatened to spill onto the table and engulf us all. she left her googy yolks, but i scraped my plate clean.