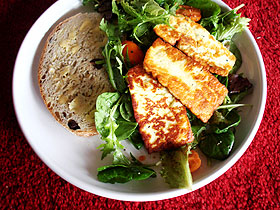 deborah's been running hither and yon getting her wedding together, but when she returned from over the mountains the other week, she brought me back a handsome bottle of vinaigrette from a french patisserie in bathurst.
it came in handy on friday — a most elegant dressing for a tumble of mixed leaves and orange grape tomatoes, topped with three fat slices of salty fried haloumi. i don't know why i don't make more of an effort at lunchtime, but this was a pretty convincing argument in its favour. i didn't really need it, but the accompanying slab of morpeth olive sourdough, buttered, was a good chaser.
the bread came into its own for breakfast the next morning. toasted, it develops a lovely crunch on the outside, and becomes far more receptive to a slathering of salty butter. and here's the clincher: chestnut honey. that pungent, woodsy aroma of the sweet honey gives way to the intense salty bursts of the embedded kalamata olives.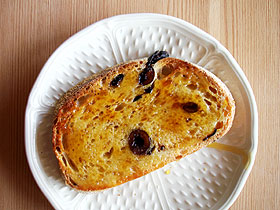 the first slice was so good, i made another, and then i couldn't wait for the day to be over and done with, so i could have it for breakfast again today.