meanwhile, over at adriano zumbo patissier, the salty-sweet treats keep a-coming.
this is the way it happens: the winter cakes aren't due in-store until july, i'm told, and i've tried all of the current season that i care to — i think the only one i didn't fancy was the death star filled with peanut butter — so i cast my attention towards the other display case, the one that normally holds the macarons; of late it seems to also be brimming with chocolate!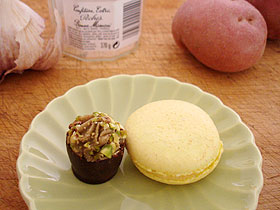 on a recent visit, i procured a lemon macaron, a pale yellow beauty that proved to be soft and moist, with a mild and fragrant citrus filling well-tempered by white chocolate ganache.
but it was really the pistachio chocolate pressed up against the glass which enticed me more, with its swirl of pistachio paste atop a dark chocolate cup, sprinkled in chopped nuts. once i broke through the delicate dark chocolate though, i discovered that it was half-filled with regular praline. sigh. if only it had been all pistachio, nyup nyup.
thing is, after i had made my selection, i started discussing the rest of the assortment with the countergirl, which in retrospect was quite the tactical error. for i pointed to a dark brown square anointed with a dab of silver, and was informed that it was a strawberry-balsamic chocolate. clearly i would have to return.
when i did, some days later, there was something new again: a dark chocolate dome encrusted with flakes of salt. "what's that?" i breathed.
turns out it was filled with caramel. i ate the one placed in my hand by the counterboy, to settle our discussion on whether it was a soft, runny or hard, chewy caramel. it's just semantics really… my runny is your chewy. what it was, in the end, was great. amazing, even. i immediately bought another.
and the strawberry-balsamic one, which surprised me with its square of sturdy jelly — all at once tart and tangy and savoury — perched atop a tablet of milky-chocolatey-praliney something, enrobed in dark chocolate. not too shabby at all.
but the caramel… o the caramel.