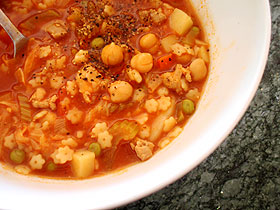 we lunched at haberfield last saturday, where we discovered that the most innocent-looking vegetarian offerings at pasticceria papa might be harbouring bits of meat. tiny chunks of chopped-up schnitzel amidst the chopped-up tomatoes on top of a particularly springtimey pizza, for example. or two enormous meatballs concealed within a "broccoli and potato" schiaciata. but because none of us are actually vegetarian, we ate every last crumb, even the ones that the kid generously graced with scraps of salami off her salami pizza.
she is all about salami these days. and ham. and bacon, she told me, she loves the best, although i think it's really ham. how much salami should a kid eat? surely italian kids (or spanish, or hungarian… and wherever else salami come from) eat quite a lot of it?
before lunch, we stopped by zanetti 5 star deli, and bought olive mortadella, and pickled octopus, and a packet of little starry pasta. we sat on the the steps out front eating mortadella, which, after an initial uncertainty about the olives, went on the list of approved cured meats.
and then after the cold cuts, and the pizza, and the gelato, and the ricotta cannoli — oh wait, that was me! — the kid requested soup for dinner, with her new starry pasta. here's what went into our minestrone pot:
onions
garlic
salami
celery
carrots
cabbage
a potato
two bay leaves
a couple squirts of tomato paste
chicken
chickpeas
frozen peas
cherry tomatoes
the stars baby, the stars