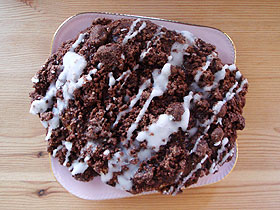 breakfast, sunday morning, 9am.
saturday afternoon, we stopped by luneburger for lunch, on the way to the kinokuniya zine fair. as i finished my delicious sunflower-seeded roll filled with pastrami, cheese and salad, i glanced over at the counter and discovered that a whole new tray of sweet buns had appeared during the course of our little meal. it really was an amazing sight, and in my mind i was already eating one for breakfast before i had even returned to the counter to buy it.
[ countergirl, visibly surprised: "oh! you were just here!" ]
behold: the chocolate-crumble roll. a base of plain yeasty bun topped with a monstrous amount of soft, crumbly, cocoa-rich biscuit and a flirty zigzag of sugary icing. in fact, the edges of the pastry were all crumb, and in the end, too much even for one and a half chocolate-mad girls.
of course, we anticipated none of this after the zine fair, when we returned to the underground labyrinth around town hall station to finally cash in my krispy kreme birthday voucher from two birthdays ago.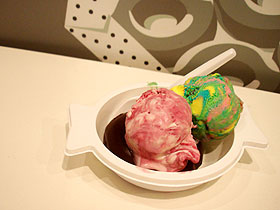 there's nothing like a free doughnut sundae to bring cheer to a random unbirthday celebration. i picked the current promotion doughnut — "chokkolate" glazed — and a scoop of boysenberry ripple, and the kid chose "rainbow". mmm… lurid. honestly, i wasn't expecting too much of the ice cream; i figured it would be like if you ordered a grilled fish meal at KFC… turns out it's super premium stuff, rich and creamy with an almost stretchy texture. totally outdid the doughnut i thought, which was after all the regular yeast doughnut, with a fudgey chocolate glaze, just like the name sez. i don't know why i thought it would be chocolate on the inside too.
it's probably just as well it wasn't though, given the breakfast we were up against in the new day.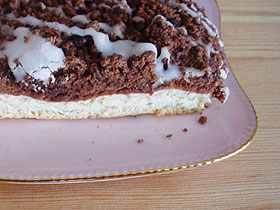 probably.