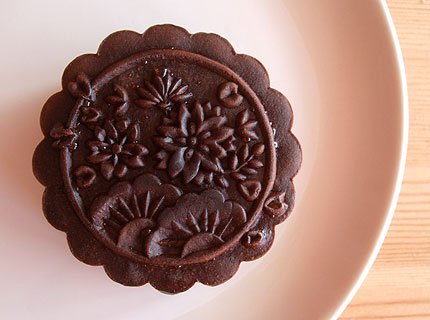 i'm filling in a questionaire at the moment, and the number one question is: what is your secret food shame? it took me aaages to think of something. i mean, i eat a lot of crap, but i'm not necessarily ashamed of it. i recently came to the conclusion that my favourite food may well be hot chips, but i wear that badge proudly. (figuratively, mind; i might now have to set about making an actual thing with a pin in it, oh boy!) i don't like oysters? is it not possible to have a dedicated interest in food while studiously avoiding those slimy, putrid bivalves? sure!
and then it struck me: my secret food shame is that i horde food. i don't mean to. behold, this rather dramatic looking chocolate mooncake that i won off grab your fork way back in — ahem — september last year. where does the time go, i ask you!
do not fear. it has been cryogenically preserved in my fridge, still sealed in its ornate plastic packet with its little sachet of desiccant. i broke it open this afternoon, desperate for a mid-annual-report-layout snack. the bag emitted a barely perceptible sigh as i cut it open; at last the mooncake would fulfill its destiny.
it was the smell that struck me: an aroma so rich and chocolatey that i was surprised when i bit into the skin, and discovered it actually wasn't. instead it was mild and cakey, with an undercurrent of regular mooncake pastry. no, the chocolate lay beneath.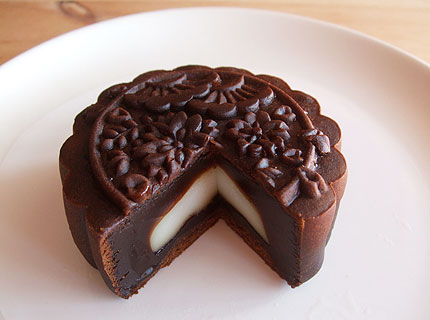 GAH. a big, moist mouthful of fudgy chocolate. mmm… quite trufflicious. and here's the surprise: a pure white heart of mochi. well, ok. so i wasn't so surprised. having eaten a couple of them not quite — ahem — six months ago, i knew of the chewy treat within. and also, there's the sticker on the pack that says, "o-mochi mooncake".
yes folks, this is mooncake innovation at its… well, that level a little way short of "finest". the mochi isn't really there for flavour i think, but it does a good job breaking up the mass of sweet, sweeet, flavoured lotus seed paste — mellows out the flavour while providing some thought-provoking texture. and how striking it is, against the chocolate.
i like it. taste aside, i love the sharp impressions in the skin, from the mould. it looks like it's been carved out of ebony, no? the macha omochi mooncake looked to be an objet d'art crafted in jade. when mooncake season comes round again, i'll be looking out for these in the usual chinese grocery shops.
so yes, i am a little bit embarrassed that it's taken me six months to eat it. but hip hip hurray for those food technicians who engineered this long life mooncake, still delicious after all that time.
anyway. the reason i'm filling in this questionaire is that a picture i submitted on a whim to eat. drink. blog. was selected to be part of the SBS photo exhibition at the inaugural australian food and drink bloggers' conference in melbourne this coming weekend. hopefully it doesn't melt away into a little puddle, my snapshot of a watermelon and pineapple ice pop, amongst such illustrious, gorgeously styled, DSLR macro company.