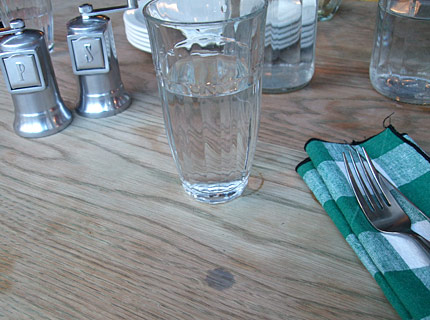 i don't know if you know, but i LOVE pizza. i do. i don't love bad pizza, when the base is too bready, or the cheese too thick, gluggy, or yellow. and yet, i am by no means a pizza snob; i will happily eat ham and pineapple pizza, if the base and cheese don't offend.
one monday evening, we sat up front on a double decker bus, and raced (like snails) through peak hour traffic, across town, to make it to dinner at pizza east. the restaurant was all unpolished floorboards and exposed beams, white subway wall tiles and wooden tables worn smooth. the windows were of the sort of glass that people don't make anymore. the napkins were gingham.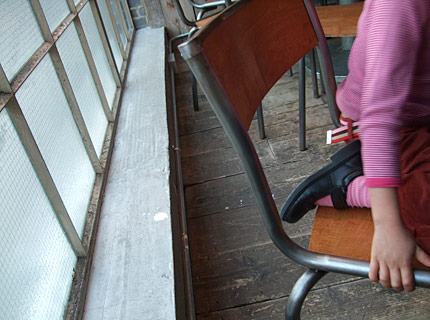 there was a heightened sense of excitement, the anticipation of pizza that has come well recommended. we inhaled the ethereal sea bass carpaccio – pale and translucent slices with a a hint of fennel and chilli. we picked our way through a lovely salad of lettuce, with pancetta, hazelnuts and pear in a pleasingly mild gorgonzola dressing. and then the pizza arrived, and there were no other sounds at the table, besides, "mmmmmm…" and "slurp".
you would not ordinarily think of "slurp", but i should explain that it was a veal meatball pizza with prosciutto, sage, lemon, parsley and cream. you would not ordinarily think of "cream", but there you go. it wasn't a creamy pizza by any means; it just meant that everything was covered in a blanket of succulence under which all the flavours sang in sweet harmony. truly, it was like eating angels. the base was blistered and puffy, a little charred from being in the woodfire oven, perfection.
there was also a zucchini pizza with taleggio, and another one of spicy sausage — very spicy — with broccoli, and by the end of it we thought we might be so full that we might not be able to manage dessert.
and yet…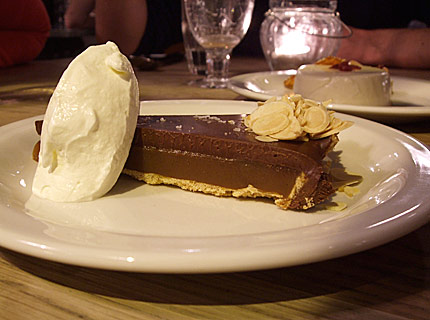 if we thought we had a winner in the meatball pizza, the salted chocolate caramel tart completely took out the grand champion trophy. it was made up of two distinct, yet barely perceptible layers. up top it was a smooth chocolate ganache, which would have been just fine on its own in a regular chocolate tart. and down below. rrraaarrrr.
down below was a dense, soft, sticky caramel, cooked dark. it was so salty that you almost might've thought something had gone wrong. but no, everything was completely all right. better, even, as the initial salty burst melted away into a rich, deep carameliciousness. in conjunction with the chocolate, it wreaked all manner of sweet-salty havoc in my mouth.
this is now the salted chocolate caramel tart against which all other salted caramel tarts will be judged. no wonder the dollop of thick cream stands so tall and proud in its company. even as the last brown skiddies were scraped off the plate, i was fantasising about getting a slice to take away.
lurking in the back you will see its worthy competitor: a maple pannacotta, whose delicate texture belied a bold maple flavour. a shard of sweet biscuit, and a dribble of macerated raisins were the perfect foil. this too, was gone in a whisper.
our stomachs, on the other hand, distended to their final, painful limits, demanded in no uncertain terms that we summon a taxi home. and so we did.