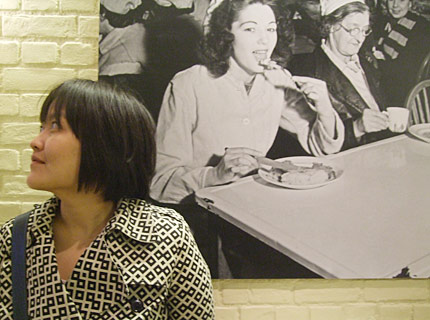 one friday afternoon, a kindly frenchman took maeve to the zoo. thusly unfettered, the rest of us took the long, meandering route to the imperial war museum, to see "the ministry of food" — a very engaging exhibition about what the british public ate (and didn't) during the second world war.
it was quite a compact exhibition, but excellently curated with very convincing plastic food (how did they make that mug of solid milky tea?), vintage propoganda posters and film clips, sobering ration cards, an entire walk-in shoppe packed with "goods" in packaging of the era, and a real shop at the end with such covetable war food-related merchandise as pencils screenprinted with the ministry of food logo, felt brooches of peas-in-a-pod or sweetcorn, rubber eggs — they bounced in unpredictable directions, CD compilations of jaunty wartime tunes to cook or tend a garden by, and yes, even a cookbook, "the ministry of food: thrifty wartime ways to feed your family today", written specially for the exhibition by jane fearnley-whittingstall (mother of hugh).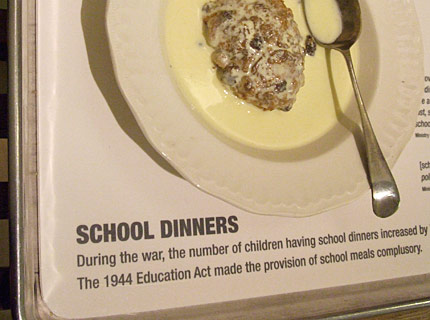 downstairs the museum cafe had been converted into "the kitchen front", serving, for the duration of the exhibition, meals cooked from wartime recipes. unfortunately, we were there quite late in the day, and hot food was no longer on offer. however, i did see a small selection of old-fashioned cakes, and you could choose to have your scones with mock cream, rather than regular, for the authentic wartime afternoon tea experience.
in any case, we were in no mood to fill ourselves with snackage, for we were due not too long after for dinner at fifteen.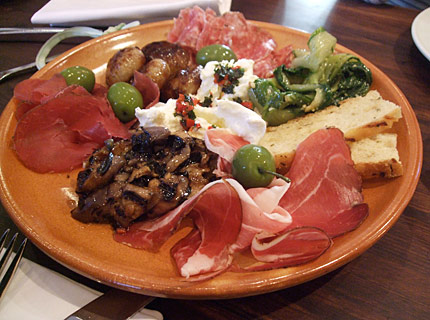 and so it was that we reunited with the kid at a table in jamie oliver's do-good restaurant. the frenchman was there nursing a coke, but handover complete, he left in protest because 6pm is apparently too early to eat. huh. shame then, because he did not get to partake of the handsome italian waiters with their charming banter, nor the the festive antipasto platter, a veritable bounty of cured meats, marinated vegetables, bread, cheese, and the plumpest, juiciest green olives you ever did see.
pleased, i sipped at my rhubarb and vanilla lemonade (that sounds entirely possible doesn't it? it has been some weeks since i sipped it, and so it could well be entirely possible as well that i am actually misremembering). i became even happier when my main course was placed before me.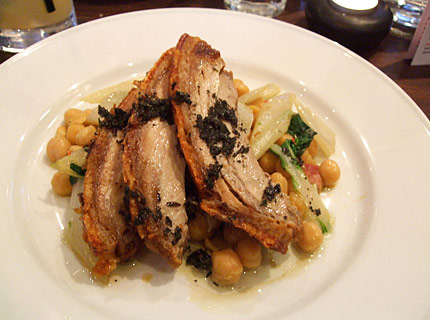 slow-roasted pork belly: three wonderful fat slices, all at once salty, oily, tender-soft, topped with a golden arc of crunchy crackling. piled onto a mound of sauteed chickpeas and chard, it was a generous mound of food. i think i may have left a chickpea or four, at the end.
because i thought i should have dessert, y'know, for research. even though the dessert menu was somewhat uninspiring. perhaps if we'd been eating fancy downstairs, rather than casual upstairs the choice would have been more agreeable. as it was, we had a choice between a couple of heavy-sounding cakes and a brownie.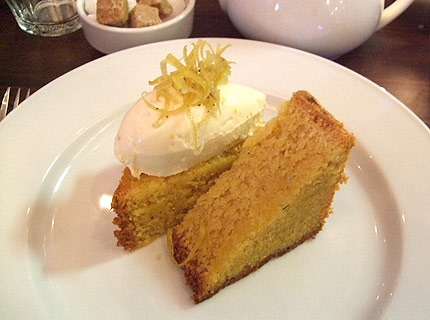 i picked the lemon cake, dense with semolina and moist with syrup, served with a good amount of thick vanilla cream and a tangle of candied rind. i must admit, it was quite delicious, and would have been lovely for afternoon tea. ultimately, it was the wrong dessert at the end of a large meaty dinner, and i was sad to leave more on the plate than i normally would (that is, ahem, nothing at all, normally).
i still think of this luscious food, hungrily. i might just have to pop in at fifteen melbourne the next time i'm down that way.