now. where were we?
ah yes, singapore. singapore, where the daily forecast of thunderstorms will overshadow any plans one may be so bold as to make.
one day, we planned for cake. while the sun shone, we walked to the local mall. we peered into each toy capsule machine; we dined at mos burger. and then, just as the kid started getting twitchy, and the clouds rolled in, we pulled up at the icing room.
the icing room is a vision in pink — from the overwrought filigreed signage to the dainty mosaic tileage underfoot all the way to the shopgirls in their japanese fantasy waitress outfits. up front, there are mini gateaux (pink, but also in colours other than) and biscuits and macarons, and a small sitting area in which to eat them.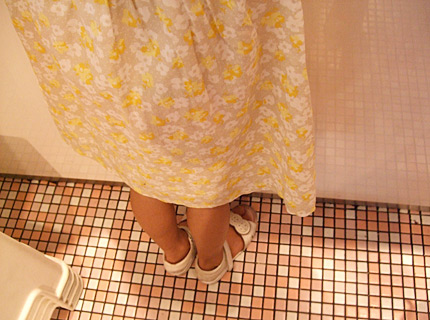 in the back of the shop is a row of professional rotating cake stands (and a tower of ikea stools for perching — i expect the kids' workshops are quite well-subscribed). this is where the magic happens. so, you can just rock up, and for under $12 you get a small cake — iced in white, a perfectly primed canvas — and a tray of coloured buttercream and gels and tiny sugar flowers. for bigger bucks there are more elaborate decorations on offer, and bigger cakes, but for us, a modest start.
the kid put down a squiggle of pink. "wait," i cautioned. "do you know what you are going to do? have you got a plan in your head of how you want it to look?"
"yes," she said, after a pause. she added another squiggle.
and so it went.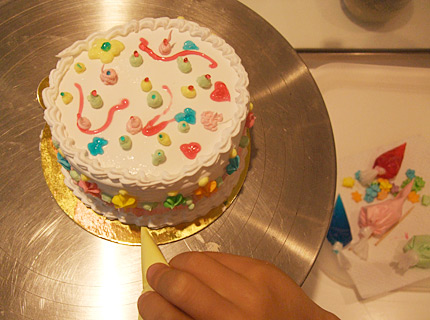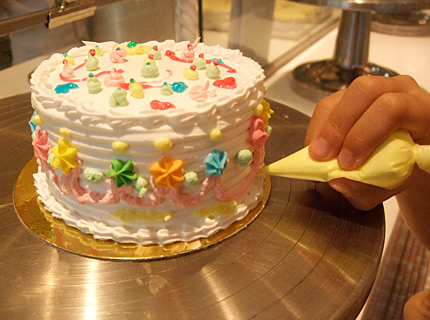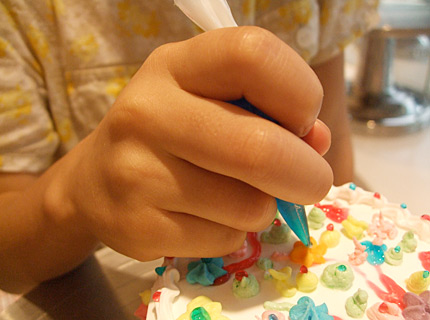 blobs, then squiggles, then a considered placing of sugar flowers. bunting 'round the side. blobs on blobs.
and then…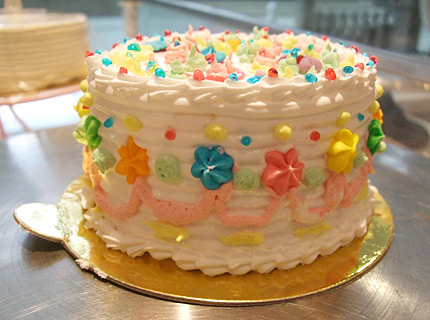 it was quite amazing! so much for the modest start!
we walked home then, pleased, and it didn't even drizzle until the very last few steps. later that night, we unveiled the cake for dessert.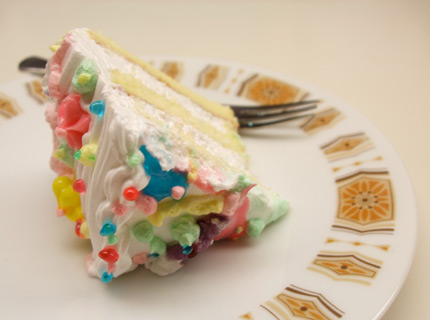 it was the very best kind of light, fluffy, innocuous sponge, layered with whipped cream and tinned fruit cocktail. unexpectedly delectable. there were seconds all around. the kid may have even had thirds.