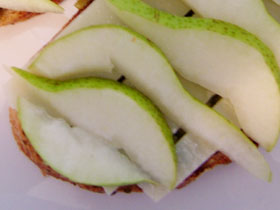 nice pear. today, an adventure: the sydney sandwich social whereby sandwiches are made and halved and swapped and eaten.
at ten-thirty, as, all casual-like, i sliced bread, cheese and pear, what the second processor in my head was thinking was, well, i suppose i could make a sandwich, and if all goes well, i'll be ready to leave the house at eleven-thirty, with a sandwich and a baby. and then it happened! hence, my new plan will be to not make plans, and to let the second processor take care of things.
because then we were on the bus into the city, the magic bus that has a space for a pram, and takes you all the way to the botanical gardens (or the art gallery, if you are that way inclined). and we were walking around under the hot hot sun, looking for a small group of people with large sandwiches. and we were finding them at last, and sitting down in the shade of a tree, and chasing birds and eating twigs and leaves of the ground.
this is the sandwich i made:
pear, pesto and parmesan on walnut bread. last night, when i described the idea to my sister, she paused and thought about it, then said, "unexpected. and tasty." and then, "does it have to be an alliterative sandwich?" why, no. but they came together all sweet, salty and faintly green.
in the end there were more sandwiches than people, and more cookies and muffins too, and quite a bit of fun for a baby who hadn't slept in about five hours.
and now i am home, with a baby in bed, and a cup of tea and a delicious apple-streusel muffin, and the saturday review section of movies i will not get to see, not for a very long time, not until they come out on DVD, maybe.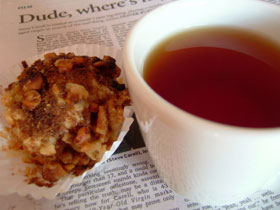 thanks to saffron for the picture of my sandwich, and augustus gloop for the muffins, and to both for bringing all the sandwiches together.