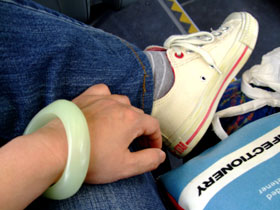 here i am, riding the bus, the day after i queued two hours — two — to get into the dinosaur designs sample sale. i didn't even queue five minutes to get my book signed at the david sedaris reading last month. ok, i didn't even queue period; deborah held a place while i walked to the front of the line to count how many fans there were ahead of us. roughly 80 made it a quick decision to abandon our posts for a splendid dinner of pasta and chocolate cake. priorities eh?
but thursday morning was a lovely day to spend in the sun, reading "the new yorker" style issue while shuffling forward at a snail's pace outside the dinosaur designs warehouse.
i've wanted one of their bangles for years, but i was always too cheap to spend the big retail bucks on these chunks of plastic, no matter how lovely and handcrafted they are. the warehouse — really, the one room within the warehouse into which a select few were permitted entry every fifteen minutes or so, was the size of an average classroom, with trestle tables set up around the perimeter and an island in the center. atop these were plastic crates, and within these were a jumble of bangles and rings and necklaces and dishes and bowls and platters and vases and jugs, and the sound of fifty or eighty or however many women in total had been admitted, the sound of rifling through these hunks of resin, was like entering a mahjong den. and the jumble was somewhat less lovely (but only a teensy bit less lovely).
and i got my bangle! a pale green, not quite translucent thing, wonky round the edges. it looks like it might glow in the dark, though it doesn't.
and what does one do the day after partaking of a sample sale, laughing in the face of that resolution to not buy anything for the rest of the year that is not food?

you could buy just over a kilo of jelly belly beans, now 20% off at the david jones confectionary department, in a fetching selection of such matching hues as very cherry, cotton candy, coconut, cream soda and chocolate pudding.
or you could wander up to the newish hawkesbury harvest markets at cook + phillip park, where the sun beats down mercilessly, and there is no shady spot for respite.
what there is, is a dairy stand selling a lightly salted butter churned from the cream of real, live, grass-eating jersey cows. if you stop to have a chat, you'll be offered a cup of cold milk, sweet and clean. the gympie lady's been out of butter recently, problems with milk supply and all, so i thought i'd give this one a go.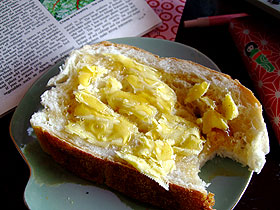 it was rather good on a slice of soft white sourdough, with a dribble of red gum honey.