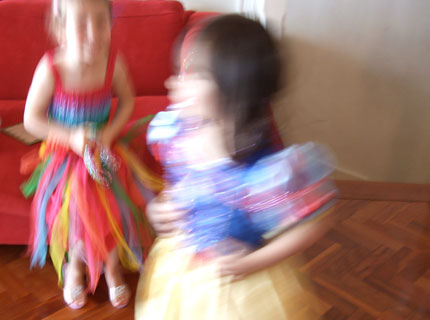 the kid turned five over the weekend. FIVE!
no, i lie. the kid turned five the weekend before last, while we were living it up in melbourne. how's that for time flying eh? last weekend was the party.
so this is the way it goes… four years of casual family-type functions, and then the kid goes to preschool, and suddenly i am looking down the barrel of a princess party with actual school friends.
princess party, of course, meant that half the class — the boy half — was automatically excluded. the task of whittling down the remaining girls to a more manageable number (four) was only a teensy bit harder.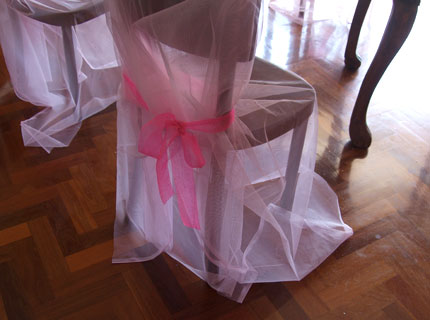 and so, at ten thirty on saturday morning, with the dining chairs swathed in pink tulle and sparkly ribbons, and the cucumber sandwiches stacked daintily on the top tier of the serving dish (heart-shaped fairy bread on the bottom), we welcomed a host of visiting princesses for crown-making and morning tea.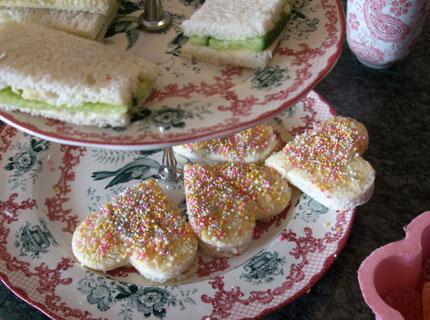 there were plastic wineglasses of fizzy fruit juice, melon balls on frilly-tipped picks, sugar-crusted fruit gummies, and it all went without a hitch — hitchless — with the only frisson of anxiety during a round of old skool pass-the-parcel. (you know, in which there is just one prize in the heart of the layers of pink and purple tissue, instead of multiple little prizes all the way through. the attending parents squirmed uneasily, and said things like, "remember, it doesn't matter who wins", and "they'll learn about life's disappointments". so true…) pin-the-tiara-on-the-princess was much less fraught, so much so that the girls gamely played it three times in a row before losing interest to the newly unwrapped polly pockets.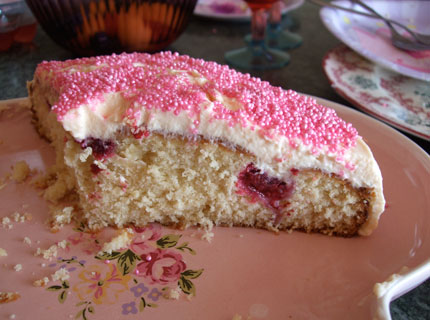 and there was cake. a lovely, moist and crumbly cake that i baked the night before — with a smattering of experimental raspberries — before frosting in the morning amidst the last-minute pottering.
now, let's talk about frosting. here is a genius recipe, in which cream cheese is beaten with sugar, and then folded into whipped cream. you get a light, cream-cheesy taste with a voluptuous, dollopy texture.
more importantly, you get quite a lot left over, and, as a result, the desire to eat it straight out of the bowl. the only way to prevent this is to make more cake, so we did. monday afternoon, straight out of school, we baked the same cake recipe into cupcakes, emptied the last of a bottle of blue colouring into the leftover frosting, and voila.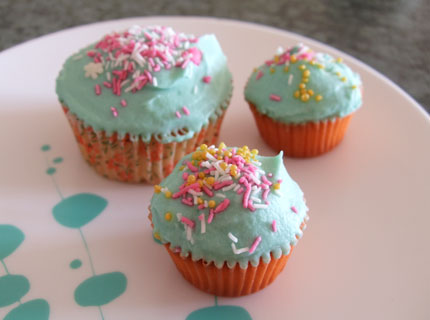 cake for days, i tells ya.