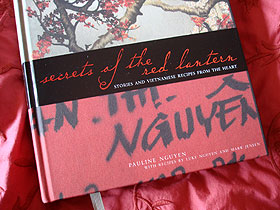 i was eating a bowl of foodhall pho bo tai the other day. nothing spesh, but at that moment, sitting at the counter overlooking the theatre that is sussex street traffic, i thought it was the best thing ever to be eaten. oh, how i love the heady herby beefy broth, the slurpy noodles, the bouquet of basil and sprouts that wilts in the hot soup. now you want one too, don't you? i ♥ vietnamese food.
so despite the vow i'd taken to not buy another cookbook ever, i found myself standing in line at borders* a few weeks ago, with this handsome tome in the crook of my arm: "secrets of the red lantern: stories and vietnamese recipes from the heart", written by the clever kids who run that surry hills restaurant.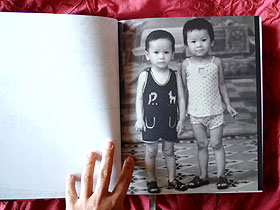 i used to live a few blocks away from red lantern, would walk past it pretty much every day, and i never went. so silly. just look at the book, full of evocative photographs of delicious food. (the feelings they evoke are hunger, i think, and regret.)
but here's the thing: a lot of the ingredients in these recipes are things i have sitting in my kitchen, or are, at least, familiar things i grew up with. most of these look to be comforting and achievable recipes. i could make this stuff at home. i think.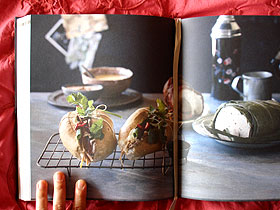 if i really felt like it, i could even make the pork terrine, the pork pate, the pork belly, the garlic mayonnaise and the pickled carrots required for a banh mi sandwich. there you are: the recipes for each component are helpfully compiled on consecutive pages, with a persuasive picture coming up the end for encouragement. for now, though, i'm happy to pay three dollars to the chatty girl in the tucked-away shop in the other chinatown foodhall. well, maybe i'll give the pickled carrots a go.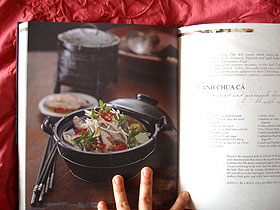 i'd also like to make canh chua ca, the tamarind fish soup of which i ate great tureens as i moseyed through vietnam in the time of SARS. and i will make banh xeo, of course. and the avocado ice cream? mmmmaybe.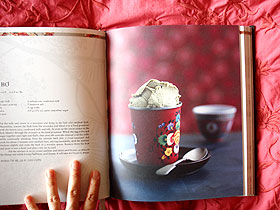 but it's not just a cookbook; alongside the pretty pictures, and the compelling recipes, are chapters of a family history woven through: a story of a childhood in saigon, an exodus aboard a boatload of refugees, a life rebuilt in cabramatta. there is a dictatorial asian father, an estranged daughter — the storyteller, plain and true –, a time in the desert (figurative), and finally, redemption. it's more than you could ask for, really. i expect it will be on my bedside table for quite a while yet.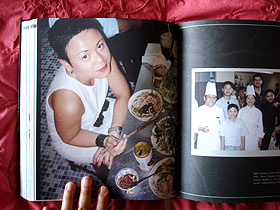 * are you signed up to the borders mailing list? they send you a better than average discount coupon or two every week, perfect for when you need that 35%-off nudge to buy yet another cookbook.