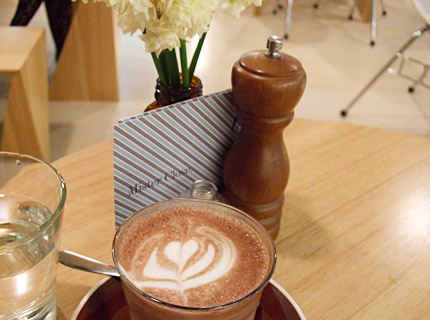 so i made it back to mr close for the halloumi sandwich last week. the original plan of course, had been to brown bag it and pair it with a chai frappucino from the starbucks across the way. but it was not quite lunchtime and the cafe area only held a handful of suits in business meetings, so i showed myself to a table in the corner, and breathed the springtime scent of the jonquils before me. in no time at all, a smartly aproned waitress brought water and a menu. lovely.
now. see the charming little clutter of flowers, peppermill and stripy postcards — it no doubt makes for a welcoming tableau at the table, but once the food got to the table, i found the flowers just too much on the nose. why would you not want to smell your freshly toasted sandwich instead?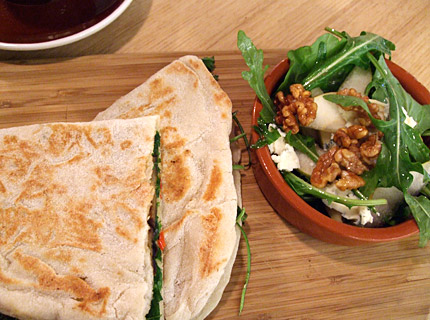 this one, which came as a piadina served on a board, had a nice crunch which gave way to a great salty mouthful of cheese, capsicum, eggplant and rocket. the generousity with the halloumi may be applauded, yes, but it also reinforced my reservations about halloumi sandwiches in general: the saltiness just overpowers everything else in its vicinity, and in this case the supporting cast was well worthy of their place in the spotlight. fortunately my tastebuds were saved from complete erosion by…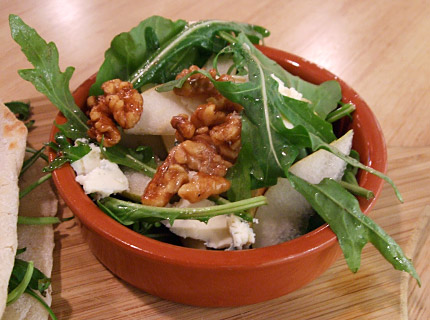 it's time for your close-up, amazing side salad. it costs $2 more to have your sandwich on the premises, and it does say on the menu that eat-in sandos come with a small side salad. i was expecting nothing more than a little pile of dressed leaves, so this perfect, elegantly disheveled portion of rocket with slices of in-season corella pear, walnuts — toasted, even — and musty little lumps of gorgonzola ended up being the highlight of my lunch. and i don't even really like blue cheese.
my artfully poured hot chocolate was pleasing too. it had arrived first up, a promising shade of rich brown, and proved itself to be intensely chocolatey without any glugginess or cloy. a much nicer beverage overall, than my bottle of gluco-scan earlier that morning.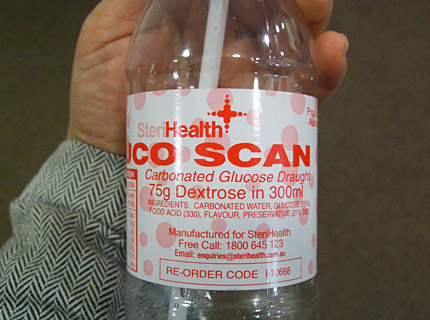 yes, the old glucose tolerance test. it would appear that one of the side effects of pregnancy, at least this time round, is gestational diabetes. i suppose i had a lot running against me: sitting way the heck over this side of 30, being chinese and tubby, having a family history (on both sides!) of type 2 diabetes… and well, fine, i expect the preceding years of pancreas-punishing cake consumption can't have helped.
i'd like to think the salty cheese sandwich might have done some good towards lowering my blood glucose that day.