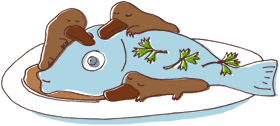 i have so many things to tell you, like the dream i had last night, where i was watching some sort of animal conservation tv show, and one of the scenes to tell you to conserve animals was a large platter of chinese whole steamed fish, with delicate brown sauce and sprigs of coriander and three whole steamed baby platypuses.
o.0
i woke up and stayed that way for hours, seeing those glistening platypuses in my head, listening to the seagulls across the water and thinking then that daylight was almost upon me. (it wasn't; i eventually got back to sleep again.)
i have lots to tell you, but i am consumed with work, and my computer now shuts itself down every hour and a half, so you see, i really have to prioritise my computer usage.
say, have you seen lobstersquad, a foodblog with drawings?