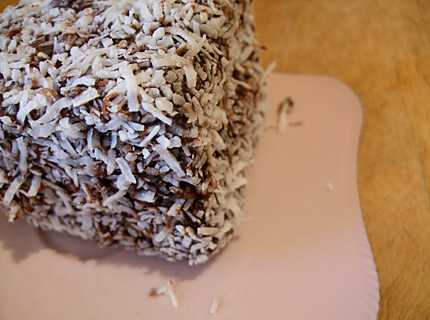 happy sunday!
yesterday, after the kid's last chinese class of the term, i orchestrated the proceedings to the lunch counter at milkwood, where the kid, without hesitation, went for an encore of poached eggs on toast with avocado, and i ventured into baguette territory with a sandwich of thinly sliced pickled beetroot, creamy fetta, avocado and a generous thatch of rocket.
of course, the real reason we were at milkwood again was so that i could get one of those monster lamingtons i saw last week. this time there was also a sunny display of lemon meringue cupcakes to sway me, but my resolve was strong.
my reward, for breakfast this morning, was a hefty block of cake with a sturdy crumb. look at those fleshy chips of coconut! unlike so many lamingtons with their dusting of dessicated coconut and their dry spongy insides, the milkwood lamington gives a serious bite, through the thick chocolate-soaked layer all the way to its heart of tart raspberry jam.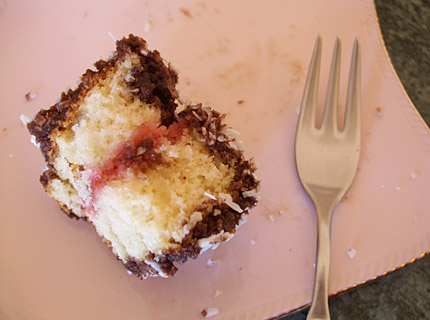 perfect sustenance as we head out into the surprise sunshine in search of german sausages and gelato.