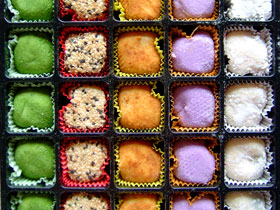 as nellie says, buy first, think later.
after i bought the bumper box of 30 assorted mochi for the bargainous price of $7.95, i thought it over, and then tried to get my aunt to take some of it home. "no, no, no," she said, "i don't want to eat these fattening things."
but after she left i checked the nutritional information on the back of the box, and discovered that this magical mochi has 0% fat, 0% protein and 0% dietary fibre; one serving size of mochi — three pieces — is only 67kj. which is surprising, really, as one of the mochi is filled with peanut butter.
this box, almost a kilo of squishy delight, contains a selection of green tea, sesame, taro, red bean and peanut mochi. over the course of the day i managed to sample all five, and i can't really say which is my favourite. the green tea one isn't maccha flavoured, as i had assumed, but it's understandable since this is not japanese but taiwanese mochi, produced by the royal family food co., ltd.
the sesame one is gritty outside and in, coated with black and white seeds, and filled with a ground black sesame paste. it's the kind of thing that makes you check your teeth before smiling at anyone, after you eat it.
the taro one is a lovely shade of lilac, smooth through and through. the red bean one is as you'd expect, though sprinkled with perhaps more rice flour than necessary, and will leave a powdery white residue on your red carpet when you're done.
the peanut one is strangely savoury, with its salty smooth peanut butter inside. i'm not a great fan of peanuts, but felt the same way about this as i do when someone else buys a jar of peanut butter, and it's sitting there in the pantry, and one day he makes a slice of peanut butter toast, and i just have to have a little bite.
the little paper cases have been colour-coordinated with their contents; the red bean mochi sits in a white case, which is printed with fruit: pineapples, grapes, cherries… and the cherry is the same size as the pineapple and the bunch of grapes. that's my kind of cherry.
some time in the week, this blog will be featured on australianreader.com, as part of their summer feature: delicious indulgence. it's poetry, fiction and nonfiction by emerging writers, from now until 22 january. go see!