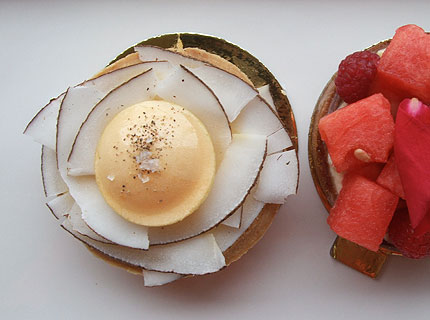 so. tetsuya aside, i'd say that this has been a pretty low-key birthday. by low-key, i mean, there was no cake. sure, there were several fancy desserts, and quite a bit of ice cream, but no, nothing with candles stuck in the top and a mess of crumbs at the end.
sometime last week, i thought i'd check out the newly launched summer range at adriano zumbo patissiere, with the thought that i might finally get me some birthday cake. but when i got there two lush tarts batted their eyelids at me, and i was sold.
well. they were.
may i present, to the left, "through the looking glass jessica rabbit". from a distance, it looked like a glistening fried egg atop a pastry shell, but as i swooped in close, it became apparent that it was a delicate construction of shavings of coconut (chewy and slightly savoury, even) and a UFO filled with sour. below, silky layers of pandan jelly and coconut creameaux in the coconut pate brisee almost made it seem like it wasn't 40° out. i liked it a lot.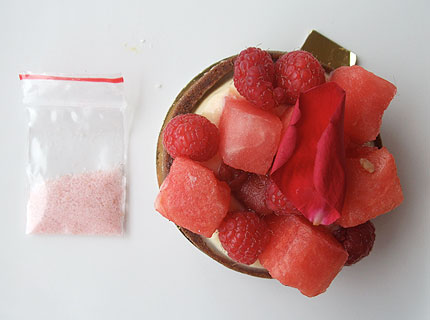 and then there was "weekend in the cross", though surely not the seamy, steamy, slightly salty kings cross you know, and maybe even love. this one, i adored. the rose creme in the pistachio pastry was positively dreamy; the plump raspberries and sweet-juicy watermelon sitting in a puddle of tart rhubarb compote, a perfect foil. it didn't even need the baggy of sweet-sour watermelon powder, but why turn down a sprinkling of good, harmless fun?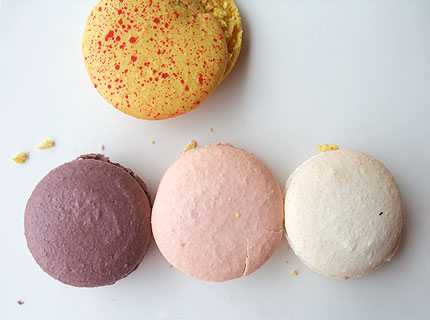 because the kid was there, we also got a modest array of macarons: lychee, pink grapefruit and jasmin, mango and sticky rice… and darned if i can remember what that speckled one was.
they were all painfully sweet, although the fruity flavours were quite pleasant. i especially liked the lingering notes of jasmin after the citrusy burst of the pink one. i especially disliked the hard, crunchy, grains of rice in the purple one. raw? toasted? certainly not sticky. tchk.