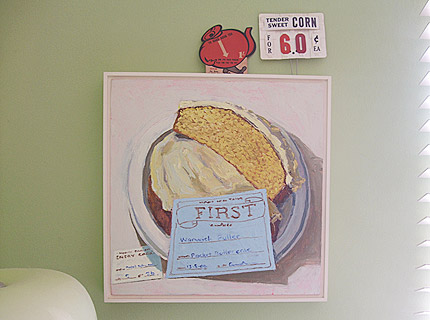 reading of dawn's art collection over at handmadelove reminded me that i've been meaning to photograph my cake painting for the longest time. this is what greets me each morning when i wake up, and what sends me off to dreamtime as i lean over to turn off my lamp each night.
strangely enough, i have never had a cake dream. perhaps my average daily cake intake is enough to keep it permeating my subconsciousness.
i remember discussing the painting with the artist, lucy culliton, whom i was lucky enough to meet at the gallery, and who was kind enough to counsel me through choosing which of her paintings i wanted up on my wall. she had originally painted the background pink, she said, but right at the end, had decided to paint it over with white, allowing the barest whisper of pinkish hue to show through.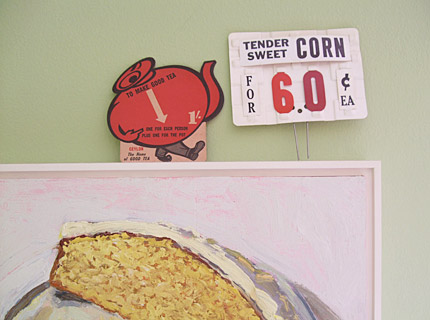 i like the pale primaries of the painting: pink, blue and yellow rallying round the golden crumby cake.
perched on top, an old advertising card for tea, procured at arthur's circus a little while ago, and a vintage price tag that my kind sister mailed me last year.
elsewhere in the house, the art is not quite as fancy, but i love it anyway. here is the wall above my computer, filled with stuff the kid has done, mostly from last year at preschool. i'll be sad to take it all down when we pack up the house, but we're fast running out of wall space anyway.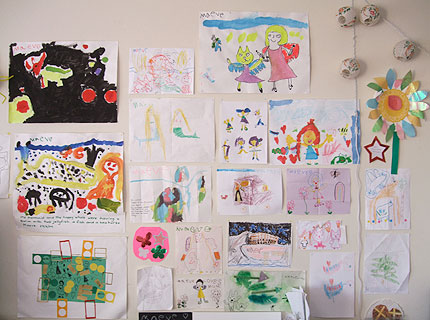 i recently started the kid her own tumblr page for her current output, but so far have been not very good at scanning and uploading. it couldn't be that hard for an almost-six-year-old to learn to use a scanner, could it?