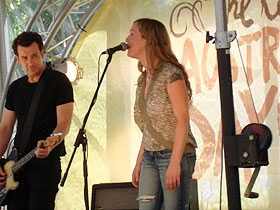 the blue skies and sunny sun on australia day brought them out in droves: buff young blonde things, draped in australian flags, wearing flag stickers on their bumcheek pockets, plastering fake tattoo flags on their faces, sharing the warmth with their flag-emblazoned singlets with "if you don't love it, leave" printed beneath the southern cross. i don't know if it was the immigrant in me, but it all made me feel a little uneasy. what do these children think about when they swathe themselves in flags? it goes a little beyond simple, good ol' USA-style rahrah patriotism, surely. well, maybe not. anyway, we had more important things to think about… like how many minutes it would take us to walk from the ferry to the angie hart show!
yay, angie hart! the whimsy of frente! that i've carried around since university brought me and the kid to the steps flanking a little stage in the heart of the rocks. we unpacked our ham sandwich and waited. angie stood alone by the side of the stage as the previous act dismantled and her gear arrived. she looked all adult contemporary rock chick… older. her hair was long and tangled, and her arms were soft, and beneath her billowy blouse, a little pot belly — she has aged as i have! and then her equipment arrived, and her guitarist, and she began to sing and it was just gorgeous. but it was a tough lunchtime crowd, in this little square surrounded by fastfood takeaway: people chatting over cartons of noodles, that man at the table right in front of the stage who kept his face turned away for the entire set.
the kid too was mostly unimpressed. "i don't like this song," she said, once the ham had run out. i was not beneath telling her that if she didn't stick around for the whole performance, then we would not be going to the dorothy the dinosaur show later that afternoon.
but it all went according to plan. the ice creams on sticks, the dinosaur lurching about on stage before going backstage to collapse of heatstroke, the carousel ride, the grande raspberry iced tea frappucino, the ferry back home, the paddle in the pool, the lamb and rosemary sausage in white bread eaten on a picnic rug on the balcony –
hers with tomato sauce; mine with the fancy green peppercorn mustard that i procured at the maille boutique in paris. see, one of us does play at being australian better than the other.
i asked her later what part of the day she liked best, and she replied, "the swimming pool." tchk.