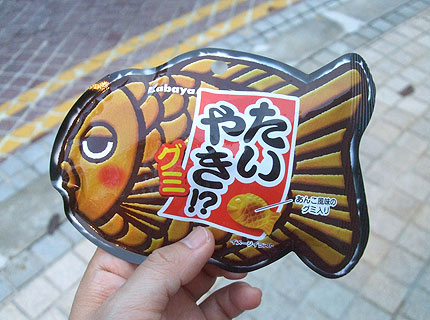 i went to singapore, and all i got was this packet of fish pancake gummies.
no, i lie. but four days goes superfast before you have to get on another plane to take you to london, and then if, say, a volcano erupts somewhere in europe and grubbies up the skies, and your flight back to singapore is cancelled for several days, it will not leave you much time to mosey before you are due back in sydney. two days, in fact. ish. it will leave you with many eating plans unfulfilled. ah well.
these fish gummies were procured during a leisurely supermarket trawl during the first couple of days. now see, i like the idea of taiyaki — those japanese fish pancakes most commonly filled with red bean paste — but they are scarce around these parts, and besides, i suspect i would much rather have the ice cream version of it: vanilla ice cream and red bean sauce in a fish-shaped wafer shell.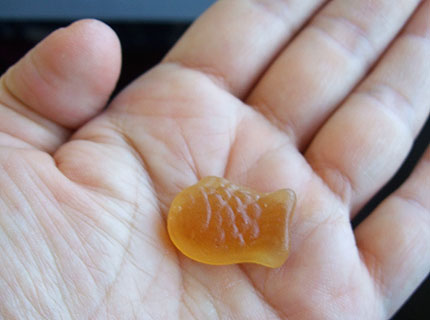 and now, i would happily have a taiyaki gummy, an adorable little fish-shaped nubbin that tastes uncannily like caramelised batter and white bean paste — a feat probably referenced by the "!?" punctuation on the packaging. it even has the slightly grainy texture of mushed-up beans (the list of ingredients includes bean powder). amazing.
i also found the intriguing pukupukutai air-in-choco strawberry fish, the kind of confection where you tear open the bag, and the air around you fills with the aroma of sweet, sweeeeet fake strawberries. it is a rather perfect rendition of the original pancake fish in crisp pink wafer. encased within is a mass of pink strawberry-flavoured chocolate, the texture of which is that of an aero bar. truly, a stellar light snack for a joyous occasion.