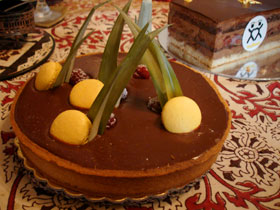 we walked up the steps from kings cross station with a cakebox in our hands. heading towards potts point, i lamented, "we still haven't been to yellow." but on this fine sunday, we weren't too bummed; we were on our way to the 95th birthday celebration of an old family friend (uncle rowan has known me since i was four), and more importantly, our cakebox was from adriano zumbo patissier. inside it was an enormous chocolate-passionfruit tart.
it had been a slightly surreal morning. earlier on, we'd been watching adriano on kochie's show, after a txt from trusty deborah alerted us to the fact. some moments later, the phone rang and my sister picked up. "this is adriano," said the voice on the other line: the cake was running late. we'd called in to order it the day before, and on the receipt it said, "envious 8 inch", chortle snort.
but so there we were, scurrying through the back streets of the cross, thinking about cake. we got to rowan's to find our aunt unpacking curries from her car: a fine chicken vindaloo and a sweet pumpkin-cashewnut affair, it turned out, but they were only formalities before the main event.
rowan had been receiving guests all morning, and each one had brought him a cake. on the dining table in the formal dining room sat a modest sponge, layered with cream and dulce de leche. it had already been divided into dainty slices, and a third of them had been eaten. beside it, the hummingbird cake, presented personally by simmone logue — who lives downstairs — was still intact, the birthday greeting writ large on a plank of white chocolate. the envious had begun to sag during its trip east, so we whisked it into the fridge. shortly after, another guest arrived, with a large cakebox in her arms. the sticker on the packaging read, "yellow"! it was shaping up to be a most impressive birthday cake buffet.
i know you know i was excited about the zumbo chocolate-passionfruit tart, because i'd had it before, and i knew that it would be great. the yellow cake, on the other hand, was mysterious and new. well, it was a large brown brick, and we saw raspberries. the top was smooth dark ganache, adorned with three bits of goldleaf, crumpled just so; the middle was layers of chocolate mousse (wherein lay the raspberries) and sponge; the base was a flavoursome dacquoise — i'm calling it hazelnut. it was extremely enjoyable.
the caramel sponge was an interlude of innocent fun. (and i made no overtures towards the hummingbird cake, because, um, it's healthy?)
but the envious: look at it! truly a celebration cake. it reminds me of jesus riding into jerusalem, with all those palm fronds waving about, and the bounty of golden macarons. the pastry is crisp and perfect, the filling full and rich. it hits you all at once, this tart burst of passionfruit, and then the low notes of caramel and chocolate, and then your mouth is empty, the last vestiges melted off your tongue so you are immediately ready for more.
i couldn't eat more than the two tiny slices i'd had right then, but when my aunt took charge and divided the remaining cake amongst the guests ("he has diabetes! he will die if he has to eat all of this!" is what she said), i did not protest too much. after dinner that night, i thought i'd straighten up the giant wedge of envious that had come home with me, but as i trimmed a little bit off this side and then that, my destiny became clear. at some point i thought i'd save the mini macaron for later, maybe even for the kid, but nah. that went too.