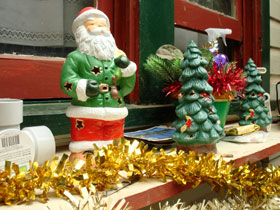 you know that episode of "friends", where joey is halfway through reading "little women", and it's not looking too good for beth, so to spare joey any trauma, rachel puts the book in the freezer? i wish someone had taken the copy of "oscar and lucinda" i was reading, and shoved it deep, deep in the frosty depths of one of the three freezers in the old house at the rock.
but, no. and now, trauma. i'd thought it would be a good chronological following on from "the secret river". how can a man, peter carey, invent such a story within the confines of an average-sized human head? my head tries to blog a lucky last entry for the year, and i get distracted on some other page, pondering the second chance to avail myself of the complete "sex and the city" boxset, with portable pink dvd player, now only $269.83… and an hour (and one fireworks display) later, i'm finishing paragraph number two.
tops.
i looked out the balcony earlier this afternoon, and saw the barge moored a little way off, and it struck me like a kick in the guts, that it had been a whole year since i posted pictures of the amazing fireworks display i'd seen, just me perched on the balcony railing, and i remembered it so clearly, like it was maybe just a couple of weeks ago. not fifty-two.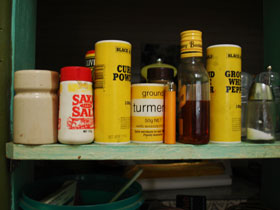 but so. a week in the parched country heart of new south wales, with not too much to do but read about new south wales a hundred and fifty years ago. midway through, i asked the boy, "i wonder, if all the migrants ever left tomorrow, would the aborigines go back to their dreamtime existence, or would they…" i wasn't sure exactly how to continue: would they successfully take over the lifestyle shaped by this many years of white settlement? would they keep sniffing glue and petrol? would they embark on a crazy spree of looting and pillaging?
but the boy, being quick, seemed to pick up where i had trailed off. "well, the centrelink cheques would dry up pretty quickly, wouldn't they?" which, i guess, still leaves the question unanswered. thinking, on the outside, is most unproductive.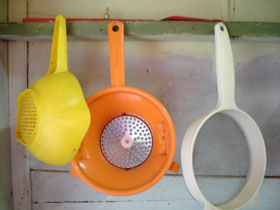 but for the most part, in the last week, we sat around, moving from one room to another, trying to find the cool room on the hot days, and the warm room on the strange freezing ones. we ate ham, ham, ham over days and days, and then for a change we headed up (twice!) to the chinee restaurant at the rock bowling club, the only restaurant in town, and the only eating establishment (out of two) open over xmas.
short soup, honey king prawns, sizzling beef, prawn crackers, fried rice (with ham), vegetable omelette, combination chow mein, satay chicken, steamed dimsims, garlic king prawns, mongolian lamb, sizzling black pepper steak, deluxe combination. and a plate of hot chips, thanks.
we cut slabs out of the tray of baklava from the hellenic bakery, warmed them in the microwave and topped them with blue ribbon vanilla ice cream. we went through tins of beetroot. we sliced more ham off the bone. we devoured a festive pavlova, green in the base and crowned in a cloud of pink whipped cream. there were two birthdays, and four birthday cakes. there were boxes (and boxes) of lindt chocolates. on the last night, there was a magnificent sausage sizzle with fifty or so assorted snags, a large glass bowl holding two tins worth of whole baby beetroots, a small melanine bowl of buttered, salted corn. a pity, the salad from a couple nights before did not make a re-appearance: sliced hard boiled eggs and sliced celery, in mayonnaise. yum.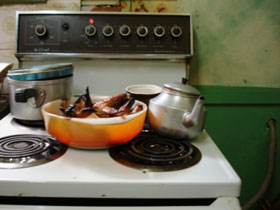 two hours now to the big fireworks display. the nine o'clock one — family fireworks — which this year could be seen from our balcony, and which must have cost an extra billion or so dollars, only succeeded in perplexing the kid. head buried in the boy's shoulder while we two gasped and wowed, and really meant it! they can make pink fireworks which explode into the outline of lovehearts! and this new one, which quietly puffs out into clusters of golddust, just lovely.
happy new year. see you 'round.