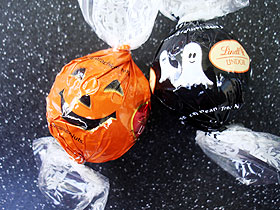 halloween! halloween? in australia?
last saturday, the kid, my mum and i were just walking up the street to lunch, when we suddenly decided to get on the bus into the city. the spontaneous plan was to partake of the sydney food and wine fair in hyde park, but as we approached, we realised that the enormous crowd of people we saw across elizabeth street was just the queue to buy food vouchers. ghastly!
it did not take much for us to turn left up elizabeth, and head for the lindt cafe instead. how's that for spontaneous, eh?
before too long, we were ensconced in plush white seating, surrounded by cool marble and glidey waiters, with a selection of well-crafted, modestly-sized (but satisfyingly filling) sandwiches before us. spicy sausage panini with yoghurt and grilled peppers; roast beef schiaciatta with mustard, vintage cheddar, marinated tomatoes and bitey cress; club sandwich with smoked salmon and goat curd with dill. we were so satisfied we couldn't even order dessert! well, ok, so i did have one of those only slightly over-the-top $6 iced dark chocolates. but still.
instead, i made do with a couple of special edition halloween lindor balls to go. the jack-o-lantern is a regular milk chocolate ball, and the spooky ghost one is a milk chocolate shell with a white chocolate filling (it also appears to use the font, template gothic, for smallprint — my favourite font from the 90s and boy does it take me back to that special place — although really, i think it's just the effects of the limitations of printing small on plastic)… neither of which were extraordinary. i'm not even demanding an exotic pumpkin pie filling; just an orange-infused chocolate would have sufficed, and a dark chocolate shell for the ghosties. is all.
a day later, the crazy hot weather had rendered the filling a perfect liquid consistency, though by that same token it also sent the milk chocolate the wrong side of cloying.
i did get a raspberry lindor ball too, because, well, you know me and raspberry chocolate, and also, it's wrapped in pink foil.
(and did you know you can now get bars of chilli dark chocolate? like, the regular 100g dark bar with a gentle burn in the back of your throat? for $4? bafflingly, the lindt shop is the most expensive place to buy lindt chocolate, but if you eat at the cafe, and present your cafe receipt at the shop counter, they take 15% off. so we did, and they did.)
but look! here's the tricky raspberry-chocolate treat for you: adriano zumbo's raspberry-chocolate macaron. i got it monday afternoon, a lone specimen perched atop a case of plain chocolate ones. its speckled biscuit like a jewel in the raw, its fruity ganache mysterious and coy. but see, if only there had been more filling, i would totally be saying "voluptuous and jolly".