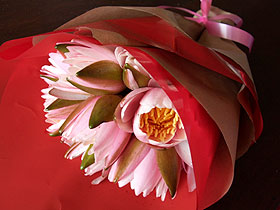 xmas came early — just — when nellie arrived in town.
shortly after 7am, xmas eve, with wandering airport carolers to the right of me, and — surprise — the little matchgirl to the left, and a dark cherry mocha frappucino in my hand, my sister and the frenchman trundled down the ramp, with three suitcases of red, pink and silver.
shortly after that, after the ride back to my very tidy house in the taxi of a very grumpy chinese man ("you are already very happy," he said almost resentfully, amidst the backseat jollity, "to be on holiday."), but before the tea had properly brewed, the little red suitcase was disgorged onto my very tidy dining table.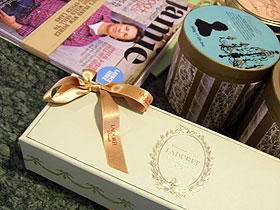 behold: a copy of the new jamie oliver magazine, "jamie magazine"; a dark chocolate and morello cherry fruitcake from fortnum and mason; and a crate of laduree macarons, because pierre herme was not yet open when it was time to board the eurostar a day and a half earlier.
i keep good company, i do.
i ate half the salted butter caramel one, the filling yielding and sweet, then salty, and then half the mango and jasmin, like something made in another world, and then we hustled ourselves to haberfield and waited patiently (though twitchy) in line for cannoli and cold meats.
our christmas day played out in a most agreeable manner: ferry rides, james bond, banana choctops, popiah dinner in the suburbs.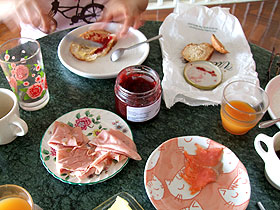 our boxing day began with bread, and mortadella, and smoked salmon. there was raspberry jam and apricot nectar with soda water. my appropriately festive-themed macaron — pistachio, and rose — if you must know, were both divine.
merry ho ho.