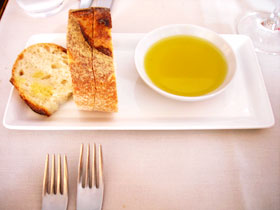 well. since i can't taste anything at the moment, i thought i'd show you these pictures from a while ago. like, march, when my sister was in town, and i still had money in the bank and a sister in town, and we traipsed around town and pretended to be the types of girls who have long, leisurely lunches at inner city hotspots like bentley.
oh wait, we really did.
although, twenty minutes to our noontime reservation (made that morning), we were twitching on the newtown station platform, realising we weren't gonna make it. i called up the restaurant to let them know we were running late, and to please hold our table. and when we finally arrived, our table was truly still available. as were most of the other tables, for most of the time we were there. whoulda thunk it? you'd expect friday lunchtime to be packed to the rafters.
so hurrah, we took our time reading and re-reading the menu, and then took our time eating our meal, and it all unfurled slowly and delicately and quite beautifully, from the straighforward but delicious beginning of chewy bread and fruity oil.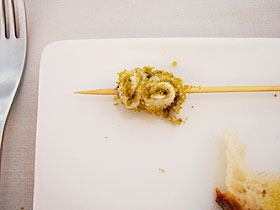 we each ordered a white anchovy stick with pistachio praline; perhaps we should have gotten a couple more. a number of clean, salty fillets were rolled up and impaled on a skewer, and then coated in sweet crunch — a perfect balance of textures and flavours, none of which could be described as "fishy".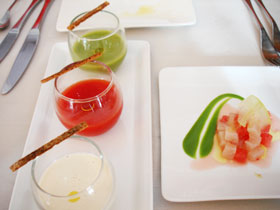 we shared the gazpacho three ways, pristine, chilled soups of herbs, tomato and almond milk. my favourite one changed with each sip i took. in between, we picked at the colour-matched kingfish ceviche with pickled watermelon and coriander.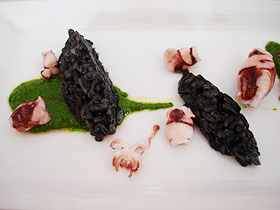 we did order cooked food as well of course, although the calamari served over squid ink rice and green chilli were so light and ethereal it seemed they must have been cooked by tiny sea nymphs. it certainly smelt of the ocean.
everything up until then had been from the tapas menu, plated to share. so we were surprised and impressed when our one item off the entree menu — caramelised pork cheek with beetroot and smoked salmon ravioli — came divided up into two perfectly art-directed miniature servings, one for each of us. we sat and gazed upon it for some time, our fingers poised quivering on our own cheeks.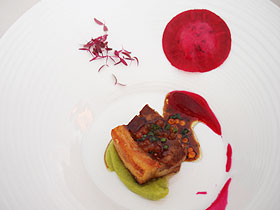 i don't know that i have ever used the phrase "melt-in-your-mouth" on this blog, but there you have it. and so rich and flavoursome. our plates were scraped clean by the time we were finished, not a tiny purple flower or paper-thin slice of beetroot "pasta" remained.
and then there was dessert. we may be the sort to share an entire lunch, but everyone gets their own dessert. nellie even had two. well, ok, she had two of the small sweets, because how much do you think $6 might buy you at a fancy restaurant these days? turns out, a lot. the hot ricotta dumplings (like eating fluffy little donuts) and the chocolate ganache with orange oil (like eating fancy nutella out of the jar) were more than enough to go round, even with my $16 black olive sorbet with carrot cake and coffee crunch.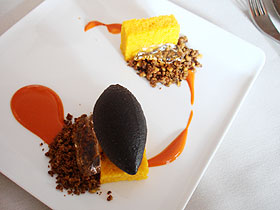 i generally don't pick coffee anything, and never ever carrot cake, but so strong was my interest in the black olive sorbet that i went boldly forth. i was rewarded with a quenelle of sweet and cold that burst on my tongue with intense salty olive flavour before melting away. the carrot cake was an orange sponge, mild and sweet, with a sort of steamed texture — if only all carrot cake could be like this. there was a rich carroty… i dunno, emulsion? and an unexpected, somewhat flavourless and colourless jelly. and the crunch, sweet and sandy, and not overly coffee-ish. not too shabby at all, by which i mean, really good.
it's true, i've rolled my eyes when i've read about molecular gastronomy, and was mildly concerned before we rocked up to bentley that our lunch might be a bit ridiculous and gimicky. but bentley doesn't go to quite the extremes of that spanish guy, and certainly nothing we ate bubbled or squeaked or foamed. (at one point, something vapoury did waft over from the next table.) in fact, this turned out to be one of the most enjoyable, exciting and unforgettable meals ever to pass my table, marred only by the service, which, though efficient, tended to err on the side of the waiters being way too cool. one of them corrected my pronunciation of "ceviche" in that passive-aggressive way of stressing his pronunciation — ceveesh — when repeating the order; the other asked us, "are you sure?" most disbelievingly when we pointed out that we'd only had one bottle of fizzy water rather than the two which had shown up on the bill.
grumble.
but yeah, waiters aside, bentley was lovely and amazing.