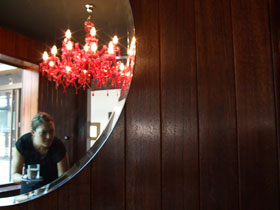 it's nice how things turn out, is all. one moment there's a post on a blog, and the next there's a flurry of txts, and just over an hour later, me and chocolatesuze are standing in the ugliest little courtyard in the world, way down the back of the ugliest little mall in the neighbourhood. but no matter, because the courtyard — oozing suburban backyard charm, circa 1972 — leads into a cozy wood-panelled room, with velvety cushions, and a red chandelier, and quite a bit of chocolate.
yes, adriano zumbo cafe chocolat finally opened. it was tomorrow after all. but yesterday, today. wait! come back! it is hot today, and my brain is melting.
it was hot yesterday too, though not as, so i was in no mood to try any of the hot chocolates listed on the chalkboard — cherry ripe, white and dark — and especially the one which was not — chilli. instead i had an iced tea, which came in a small carafe with bits of chopped up strawberries floating in it. the volume of the carafe exactly matched that of the handsome glass filled with ice, mint leaves and tiny slices of orange. it was all very pretty, but once the tea was poured from one vessel to another, it seemed like the energy expended could have been put towards more worthy tasks.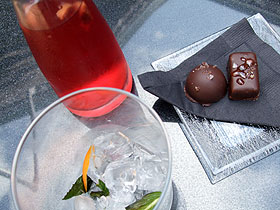 like eating chocolate! it was a very soft launch of the cafe, and what was on offer was mostly chocolates. i picked a couple: salted caramel mousse and vanilla caramel, and was enchanted by the effect of incredible salty salt crystals embedded in lush dark chocolate.
chocolatesuze proved her mantle by downing a hot chocolate as well as five chocolate truffles, including the unfortunately named "camel toe", a shiny pink and appropriately moulded affair filled with a liquid red wine center. sigh. (not a happy sigh.)
the sugar only made me hungry for more, so i went back for seconds: a passionfruit caramel macaron. it was a full, moist mouthful with a burst of fruity tang. caramelicious!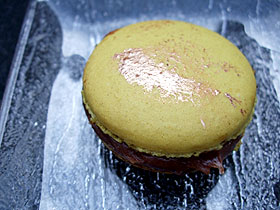 two hours after we began, the smell of fried garlic and curry spices wafted into the courtyard from the indian takeaway next door, and i was reminded that i had to go home and make dinner, for dessert (spaghetti with smoked trout, green beans and asparagus, if you must know, in a parsley pesto).
the cafe's dessert menu hadn't really been implemented on this first day; besides the chocolate and macaron and a couple of pastries, there was only one available. we did not order it, but followed its trajectory with keen interest when it was delivered to the next table. there was a surgical steel kidney dish, you see, and an oversized syringe filled with what appeared to be the result of liposuction. but in the dish was a chocolate fondant, and in the syringe, raspberry coulis and vanilla creme anglaise, which was then administered into the pudding by the waitress. oh, if only she'd been wearing a naughty nurses uniform.
it will all be very interesting i'm sure, when it takes full flight on saturday.