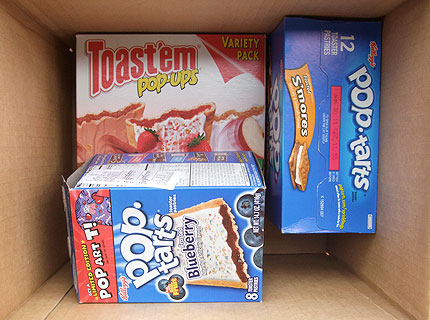 it's come to this. yes folks, i am stock-piling pop tarts.
last month, i was alerted to the woeful news that frosted pop tarts are no longer allowed into australia. pop tarts haven't been widely available for a while, but you could always count on specialist retailers or david jones food hall for small-scale imports. no more. the gelatin used in the frosting is believed by the guys in the quarantine department to be an agent for mad cow disease, so there.
i'd had usafoods.com.au bookmarked for a while now, though i hadn't ever placed an order. now seemed like a good time to try them out. their supply of frosted pop tarts was already running low, so in a fit of mild panic, i got a box of eight frosted blueberry pop tarts, and a box of 12 frosted s'mores pop tarts. in their newsletter (where the news of impending frosted pop tart drought was broke), usafoods had helpfully suggested that a cheaper and fresher tasting substitute was toast 'em pop ups, so i got a box of those as well.
research, you understand.
so this carton showed up in the mail room a few days ago, and the kid and i immediately leapt into action and hustled an after-school snack. here before us we have a blueberry pop tart and a strawberry pop-up. pretty much identical, in their stay-fresh foil wrappers, like hapless adventurers wrapped up in emergency blankets, no? little snacky cakes, this is where your adventure ends!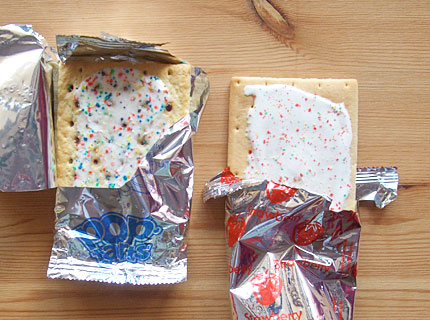 and were they the same? well, the kid kept referring to her strawberry toaster pastry as "pop tart", so i'll say: yes. even i couldn't really tell the difference. side by side, the toast 'em does look more "picture perfect", with its smooth biscuit and non-bleedy sprinkles, but essentially both are crunchy pastry envelopes filled with sticky, almost-fruit jam, adorned with a shell of hard icing. mmm… i wouldn't normally have picked strawberry flavour, but it came in the bumper toast 'ems assortment box, alongside frosted apple and frosted brown sugar cinnamon.
it's a damn shame one of the selection wasn't "frosted cherry", which is my favourite. it kills me — so unfair — that this development (regression?) occurs just as pop tarts world opens its doors in NYC. and what can you buy at pop tarts world? frosted cherry pop tart flavoured lip balm!
how's that for a first world problem?