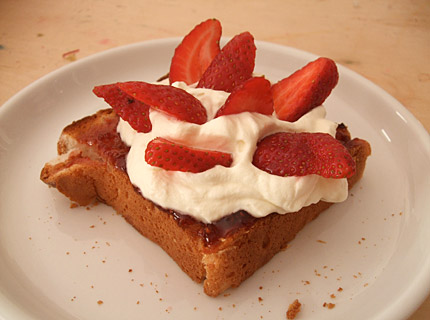 i'm not much of a twitterer (tweeter? twit?). that whole twitter scene is far too noisy for me. of course, it has its uses: i did get that chocolate bar from @thirdrawerdown.
and just the other day, a tweet by @grabyourfork alerted me to the existence of scone toast. i have been mildly curious every time i've been to the supermarket and noticed the crumpet toast, but have so far managed to not buy it due to my general meh-ness about crumpets. but scones — scones are different: warm and fluffy vehicles for copious amounts of jam and cream. in fact, what i twittered back was "any excuse to eat thick cream on bread". and then i went out to the supermarket and bought myself a loaf.
scone toast is part of tip top's café range, which you may remember from café raisin toast, which i had dismissed as being ridiculous because it appeared to be normal raisin toast, only sliced thicker. scone toast, according to the website, "has been inspired by the taste and texture of traditional scones, and is presented in a thick cut, flour dusted loaf."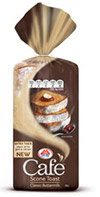 thick slices indeed! 2cm blocks of spongy white bread. once toasted, i ignored the pitiful serving suggestion on the bag — note paltry dab of cream attached to the toast with a tiny puddle of jam — and slathered the slice with raspberry jam, several dollops of whipped cream, and sliced strawberries. and it was… ok. it had quite a light, chewy texture, and a fleeting taste of an actual scone, but in the end it was more bready than crumbly-cakey. quite a bit more enjoyment was to be had from the berries and cream.
the next day i had another slice with a good smear of home-made lemon curd, and i couldn't help but think that there were other, better breads that i'd rather be eating.
so yeah, it wasn't terrible by any means, and i can't even say i'm disappointed. i mean, if it had been delicious and sconey then i would have been truly surprised and pleased. for now, i'll save my stomach space for real scones, and half-heartedly await the next installment in the café series. maybe a sub-par banana bread?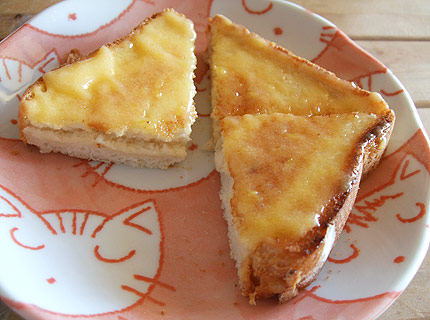 speaking of twitter, i recently added @farmtable to my stream, a restaurant in san francisco about which i know nothing; it was mentioned randomly on someone's blog. they mostly post their daily menus, which makes for quite a delicious stream-of-consciousness:
chocolate cake w edible flowers
about 7 hours ago

prosciutto butter sandwich w scallion oil. chicken posole soup. little gem salad w cherry tomatoes zucchini radish & creamy basil dressing
about 8 hours ago

hb eggs over baguette w smoked salmon capers zucchini yogurt dill sauce. dt=ww w panir honey strawberries boysenberries. apricot bcakes.
about 11 hours ago

pm: roasted zucchini w housemade hummus & mint oil on sourdough, chicken pozole soup, mixed greens w tuna salad
4:45AM Jun 17th

spicy tuna salad sandwich w eggs. moroccan chickpea soup. mixed baby green salad w nectarines pecans chevre & vinaigrette. cherry pie!
4:36AM Jun 16th

hb eggs on baguette w summer squash, leeks, pantaleo cheese. dt=pan de mie w white nectarines fromage blanc blueberries. cereal is back!
1:50AM Jun 16th

pm: farro salad w basil spring onions baby carrots & avocado, moroccan chickpea soup, pulled pork on challah, yogurt cake, cardamom palmiers
5:02AM Jun 15th

am: cherry brioche bread pudding, hb eggs over baguette w burrata carmalized spring onions basil oil, dt-mascarpone bananas toasted pecans ww
2:02AM Jun 15th

white peach bread pudding, roasted white peaches bacon chevre on pan de mie, dt-pan de mie mascarpone cherries pecans, coconut chard soup
4:32AM Jun 13th

little gems blue cheese radish lemon walnut dressing, yogurt cake, fromage blanc tart w mixed berries, orange blossom olive oil cake
4:32AM Jun 13th

pm: meatloaf friday! coconut and red chard soup, mixed greens strawberries walnuts balsamic vinaigrette, pecan rounds, fudgy brownies
4:58AM Jun 12th

pm: bacon arugula ascutney mt cheese on baguette, carrot & german butterball potato soup, mixed greens w strawberries chevre walnuts balasami
4:58AM Jun 11th

pm: egg salad on sourdough, creamy tomato soup, rooftop greens baby carrots radish spring onions w housemade green goddess dressing
6:21AM Jun 10th

am: dt-pan de mie fromage blanc mixed berries honey, hb eggs over baguette mixed sauteed summer squash fresh chevre, polenta maple b cakes
2:30AM Jun 10th