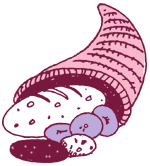 my breadbin is a large pink enamel trough (enamelled pale buttery yellow on the inside) with a wooden lid for slicing bread on (though i have not done so). i would not be surprised if it suddenly twisted itself up into a horn of plenty, because this is what it holds:
- 1 loaf of sourdough soy and linseed
- 2 blueberry bagels
- 1 muesli cookie
- 1 dark chocolate sour cherry cookie
- a bag and a half of japanese rice crackers
- and the last couple of slices of supermarket bread, several days old, on which i am now waiting to develop those furry green clumps of mould before i put them in the bin.
there would've been a macaron (or two. or three!) in there as well, but… well, you shall see.
yesterday was a busy day. before our 12.30 lunch date, we had already made acquaintances of the waterfowl (and single displaced pelican) on the victoria park pond; gone on everything at least once in the park's playground; and handed over $4 for the muesli cookie at toby's estate — well, it is a pretty good cookie, large as a small bun, moist, packed full of brown sugar and wheaty bits and a harvest of dried fruit. after some hijinx in the shoe aisles of kmart, we bought two pairs of boots (child size 6) for the coming winter, and then settled in at tomodachi with deborah, for agedashi tofu, sashimi salad, and an assortment of exotic maki from the sushi train. a sizeable feast, though i think the kid came away best of all, having charmed herself all the cherry tomatoes in the salad, and more pieces of salmon sashimi than you'd think a two-and-a-half year old would want.
midweek, leading up to lunch, we had already discussed dessert. words like "macaron" and "chocolate tart" were bandied about the ether. beb patisserie on broadway, as you know, does a fine line of exotic macaron, and across the road, the bourke street bakery satellite beams you a full range of sweet tarts. alas. our worse fears were realised as we arrived at beb: those "for lease" signs i thought i'd seen whizzing past on the bus a couple weeks ago, they were indeed pasted up on the cold glass windows of the dark little shell. all the shop fittings were still there, but the sign on the door, unglamourously askew, said "CLOSED", even though the list of times posted right next to it indicated that it should be OPEN.
we grieved only the briefest moment before turning on our heels and crossing the street. at bourke street bakery, the chocolate tart beckoned, but after picking a sourdough soy and linseed loaf (eschewing the hot cross loaf — a gigantic, craggy hot cross bun, which sounded very warm and spicy from the handwritten description, and which i will no doubt return for one of these days before easter, and make into slices of very buttery fruit toast) i found i no longer had a longing for dessert. the chocolate cookie, a sizeable disc of chewy black packed with chewy sour cherries, was almost an afterthought (but of course i had been thinking about it ever since the plan for lunch had been hatched).
and so that is why my breadbin is packed to capacity.
[ the blueberry bagels (by bagel house) were already there. i bought them at the supermarket on special, but for the last few weeks i have been seeing a bagel house cafe slowly take shape on darling street. i must investigate further. ]