i finally got the anabanana today. it's just, i'd gone savoury at breakfast, and around lunchtime, i found myself needing something sweet, and i peeped into zumbo just to see… and i'd never seen anabanana looking like this before. actually i don't think anyone's ever seen anything look like this before.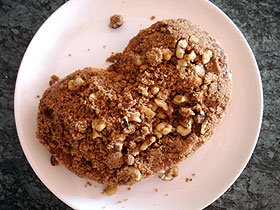 it's like one of the happy little elves back at the workshop went postal, and dumped the entire sack of brown sugar over the lot of 'em.
i'm not complaining, mind. in fact, i'm quite in awe of the bold, sugary statement. there is no finesse in this pastry — not today anyway — but there are roughly chopped walnuts buried in the sweet avalanche, and a stream of cinnamon running through the light and crunchy brioche feulletine. (yes! there is pastry beneath the sugar!)
there are no bananas though. weird, huh?
[edit: a source close to the cakebox has informed me that the bananas are rolled in between the layers of pastry.]
i like it quite a bit. i expect i will like it tomorrow too, and possibly the day after, for that is how long i expect it will take me to get through it.