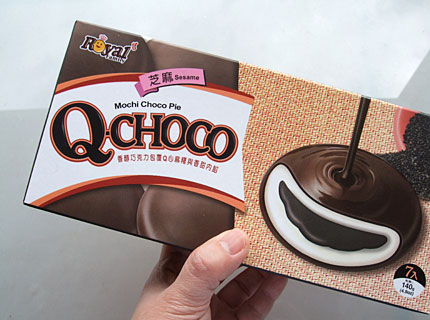 at maruyu the other weekend, i could not resist this package of choco pies. mochi choco pies! a whole box of 'em for $2.50! maruyu sits on clarence street, a block west of the queen victoria building — possibly the best city block in all of sydney, with this two-level japanese minimart (that's, maruyu), an affordable and unfussy french cafe, and a very interesting exhibition space within doors of each other. i've gotten many a bargain at maruyu. sure, a lot of it was exotic junk food just past its expiry date, but this one is still good until at least january next year.
so i opened the box, and was somewhat surprised by the size of this little packet. i mean, i assumed each one would be individually wrapped — it's the nature of this sort of asian snack food, but i really did think that seven to a box would yield a slightly larger pie. what with the plastic wrapper within the carton, and then another cardboard tray in which the little packets of choco pies were nestled, it was a much smaller handful than what i had expected when looking at the picture on the box.
and then when i got that sachet open, all i could do was laugh at the tiny disc inside. choco pie? it looked more like an after-dinner mint.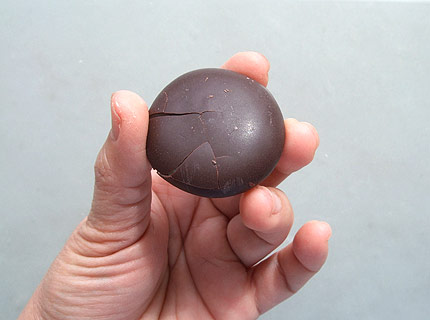 when i first saw this on the shelf, i was drawn to the mochi part of it, and then the black sesame. that it was covered in chocolate was a bit of a bonus i suppose, but chocolate in asian confectionery is decidedly hit-or-miss. sometimes it's floury, or grainy, or oily; sometimes it just has a peculiar wrongness. such a gamble, but in this case — chocolate-covered black sesame rice cake — it was a gamble i was willing to take. plus, y'know, two-fiddy.
this particular chocolate — a thin shell — broke with a soft crack when i bit into it, and melted smoothly away. it was not too sugary, and had a rich, dark chocolatey flavour. the soft chewy mochi, which replaced the marshmallow portion of a traditional choco pie, pleased me with its mild sweetness. the inner layer of black sesame paste delivered a nutty taste that lingered, and it was all i could do to stop myself chasing it with another serve.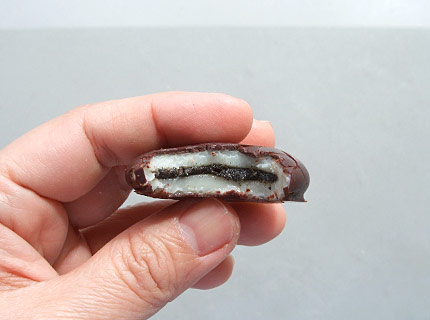 so i'll concede that these turned out to be the perfect size after all — the delicate and well-considered balance of the various flavors and textures just called to be contained in a package this petite. and i grant that the individual wrappers make you pause a while, instead of just shoveling the little cakes into your gob, one after the other, until they are all gone, because they are that delicious.
if only they'd thought to put more of 'em in the box.