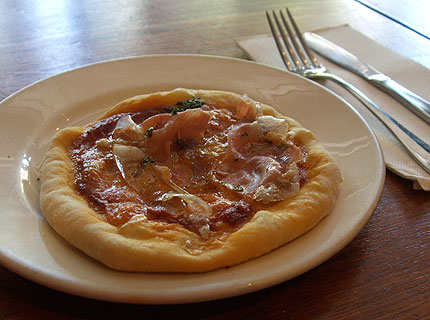 so yes, it was hot in melbourne, but it never got too hot for pizza. one day in january, after a short spell at luna park —
[ the kid is still too short for most of the rides, but we did qualify for the ghost train (a dud), and then the mini-roller coaster in the shape of a large green dragon (rollicking god fun for the 105cm-tall set). after which she procured for herself the largest fairy floss in the world. it was roughly half her height, and weighed enough that it eventually pulled itself off the stick. she kept calm and carried on, slipped her arm through the mass of spun sugar, and fashioned herself a fine edible bracelet. ]
– and a large amount of gelato that melted before we even made it down the street, and a good bout of digging in the sand beneath the promenade, and the merry side-stepping of washed-up jellyfish on the shore, we stumbled, somewhat sundazed, into il fornaio, which hangs off the prince hotel on ackland street. i've always come by at the wrong time, too late for lunch service, and this time, alas, we were once again told we could have drinks only, or anything from the display case.
fortunately, the display case still held a handful of small pizze. i picked the prosciutto. the waitress was kind enough to put it in the oven for a spell, and it was just the salty, crunchy-edged kind of mid-afternoon snack you might wish for, just in from the beach with your legs all sandy.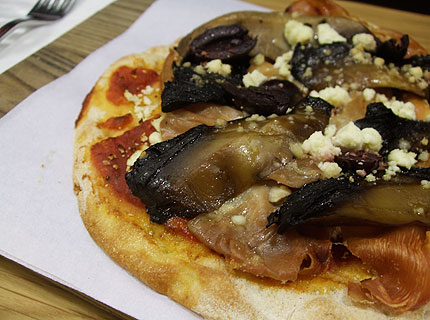 some days later, we took shelter at the NGV international. for a while, we pretended to look at art, though really we were more interested in standing over the impossibly sleek airconditioning vents in the floor of the gallery. and then also, lunch. the gallery kitchen beckoned, from its hiding place behind the ground floor escalators. and you will see this picture, and yawn and say, ho hum. i couldn't help it! i am completely powerless against the lure of a prosciutto pizza, but look! this one was also decked out with fat slices of field mushrooms and a smattering of olives and fetta.
ahh… such pleasurable little discs of modestly puffy, barely charred dough, their sharp flavours uncompromised by just a scant amount of cheese. it's a rarity around these parts i tells ya. if they had been just three bites larger, they would've been perfect.