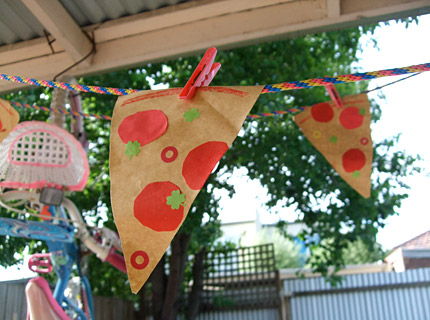 the kid turned seven during the week. se7en! i'd thought i might have a new kitchen in by today, or at least new kitchen cabinets, but no. in fact, i had no kitchen, and no cabinets — just a big empty room with an assortment of wires and pipes sticking out of the walls, and several large holes in said walls where the previous beige tiles and their grey grout — and occasional blue and yellow chequerboard accents — had been gouged out.
still, it was a good day for a party.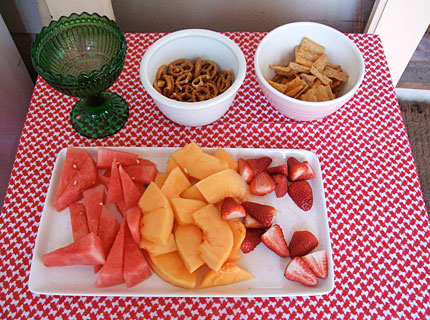 it is important when one has no kitchen, to plan a party with minimal cooking. actually, no cooking whatsoever. my party prep in the morning involved emptying bags into bowls, and the cursoriest bit of cutting up fruit. probably should have emptied a couple more bags; the gummy lollies — two bowls by this stage — were the first to go.
fun activities of the night before, after removing the last vestiges of debris from the ex-kitchen, included making pizza bunting for the backyard clothesline. you see, it was a pizza party!
the kids were herded out back for a spot of pizza craft — a free flow of red paint in lieu of passata, a stack of sticky circles and origami paper, some tubes of glitter and a bowl of spangles, and six rounds of cardboard. there were crayons too, but they melted in the late morning sun.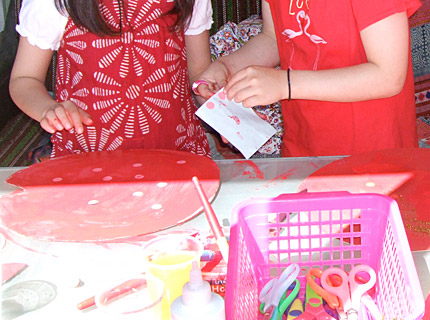 i ordered three of domino's finest over the phone, and then i joined in the crafty mayhem. here is my neat and tidy sausage and mushroom pizza: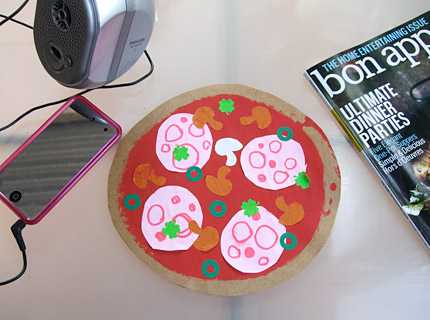 and here is the freeform expression of a wild-and-spirited guest, who started off with a pretty conventional pizza, and then painted over the lot with red, and then most of a bottle of craft glue, and then stuck to it as many sheets of coloured paper and circle stickers as she could: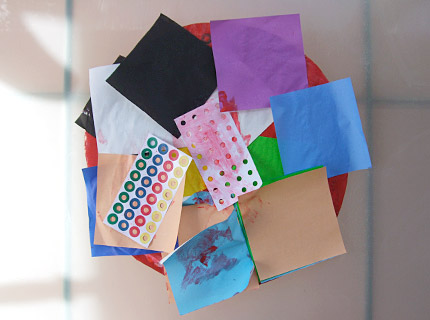 it's all in the process, innit? amazing.
and then i scrubbed the thick circle of gluey paint and fairy dust off the table, just in time for the pizza delivery.
there was cake after, of course, after the aforementioned wild-and-spirited guest scaled the cubby house and then the fence, and danced provocatively upon the neighbour's shed. a rainbow ice cream cake which made another girl sad because she doesn't like ice cream, and whose candles were prematurely blown out by the wild-and-spirited guest and had to be relit…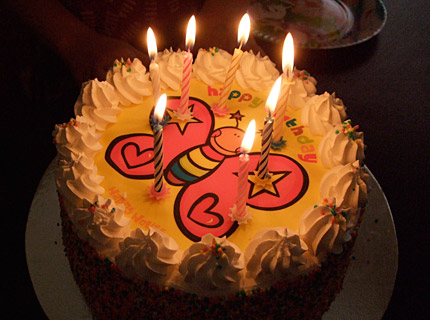 nonetheless, i think it probably worked out in the end. happy birthday, kid!