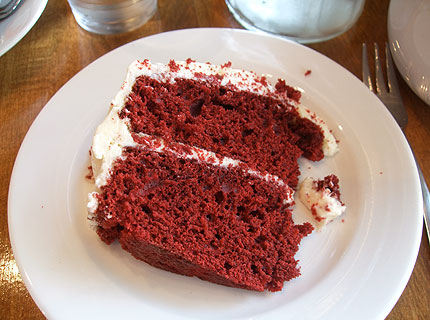 i don't know how these things happen, but suddenly i'm 10 kilos heavier than what i'd like to be. hmm… ok, so i do know. i follow the cake, is what happens.
a couple of weeks ago, we followed it down hot and dusty king street, to cool and sweet-scented buppa's bakehouse in newtown. we like cake, deborah and i, and we like american cake, and buppa promises the real thing.
that saturday morning, the air inside was tinged with sugar and by the time we reached the front of the moderate queue, i was somewhat delirious with sugarlust. there wasn't a lot of choice on our visit — maybe three pies and three cakes — but we only needed one each after all.
turned out, we didn't even need that. the red velvet cake was a little dry and the frosting was so painfully sweet — and gritty with sugar — that i felt my teeth wince, and my throat spasm in protest. it was near impossible to eat one without the other, and yet eating both together was not much better. in the end, with regret, we left it. i hardly ever leave frosting, but today the billowing mass left over mocked me triumphantly from the plate.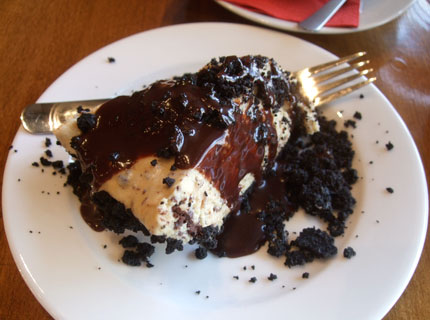 much more successful was the chocolate-peanut butter pie. i hardly ever order peanut anything, but the combination of the creamy, salty, savoury peanut butter and bittersweet chocolate was quite alluring. at the glass-fronted counter, this had seemed a plain-looking pie, a beige mass held demurely in a dark cookie crust. however, it was plated with gay abandon: chocolate syrup drizzled over the top, and then extra cookie crumbs from the pie dish strewn about. all sorts of crunchy-crispy-sticky-creamy. mmm… this is truly the sort of thing i'd be happy to eat, feet up and slumped in my sofa… until i find myself 10 kilos heavier than i'd like.
i ordered tea to go with, and on the counterperson's recommendation, chose the $5 pot over the $2.50 cup. what came to the table was a teapot with a single teabag floating forlornly in the hot water. this is the sort of tea service that irks me, and the kind of pricing structure which makes me cranky, hrumph.
so i marched back up to the counter, and got a slice of pie to go. apple. the pie had already been cut into, and appeared to be sitting in half its depth of pie juices. i asked the man with the cake knife if it was possible to make a fruit pie and have the bottom of the crust remain crisp, because, y'know, disintegrating pie crust from a year-and-a-half ago. proudly, buppa chimed in to say that this was a sign that no unnecessary thickeners had been added to the filling; the apples were fresh, and peeled and sliced by her fair hand.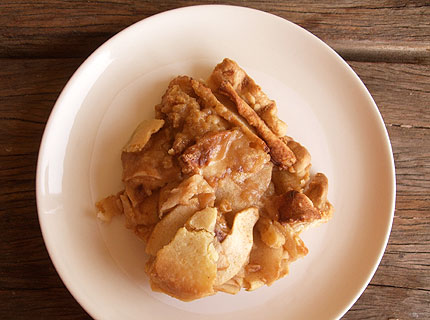 and so, it was sort of sloppy when they gently slid it into the takeaway paper box, and quite a mangled mess when i transferred it to a plate at breakfast the next morning. but the crusty edges were still crunchy, and the top flaky, and the apples, cinammon-spiced and still tart, were delicious. thinly sliced, they retained a bit of bite, some cooked a little more than others.
i can't wait to try the cherry pie. it's homely food, unpretentious and a little messy, and i'd probably even recommend eating it at home. the shop itself, despite its tables and chairs and sweet, sweet smell of cake-baking, is somewhat lacking in character… and may i just say again, $5 teabag.
we blinked as we headed back out into the big bright that saturday morning, dazed with sweetness and light. little did we know — well, perhaps there was an inkling — that not quite an hour later we would be fingertips deep in dhal and chutneys and thick curry sauces. there were hoppers, and a big, brown dosai, and when we finished those, a plate of parathas. at last, we were free of the sugarhigh.