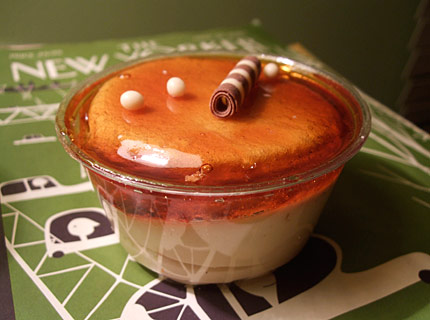 more infirmary pudding.
i was in surry hills yesterday, to say goodbye to an old friend. well, ok, to be exact i was in east redfern, to divest myself of the flat i used to live in. i have not been inside my old building for about five years, but it was scrubbed clean and filled with diffused morning light, and i missed it afresh. an oldish lady from cremorne bought it, with the slightest twitch of her paddle. she wore a hot pink cardigan with mother-of-pearl buttons; the topmost one was in the shape of a star.
after papers were signed, i had a celebratory rawa paneer dosai at maya on cleveland street, and a post-lunch stroll down memory lane, which in this case was quite literally bourke street, surry hills. we popped into christopher's cake shop, where the kid picked lemon and strawberry shortbreads, and i picked a half dozen aniseed rusks and this majestic tub of caramel fresh cream.
we walked through the city and rode the bus home, and some time later i found myself afflicted with the most terrible headache — that kind of radiating pain that reaches from the top of your head back down to the base of your neck. my sinuses played along to the beat. was this miagraine or meningitis, i wondered, before taking two tabs of paracetemol and settling down to wait it out.
when the pain subsided, i sat up in bed with a copy of "the new yorker" and my little pudding. it consisted of caramel-tinged whipped cream, two layers of light-as-air sponge, and a crown akin to liquid amber — look how it glows! the scent of burnt sugar from this smooth and sticky caramel was strong, but the taste surprisingly tangy. it was a pleasing treat, much like the no-chewing-necessary airline desserts you used to get before they started serving commercial ice cream bars after lunch service.
of course, it would have been even more pleasing if there'd been a trifle more cream.