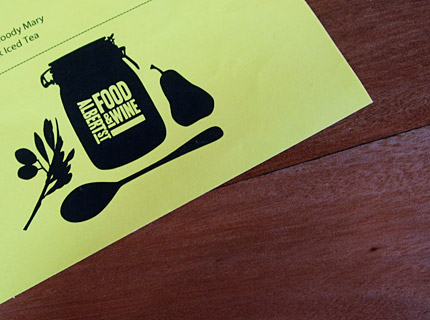 sometimes, if the timing's right, i'll drop kid #1 off at school, and then amble the perambulator up to the main street with kid #2. it's usually good for a quick burst of grocery shopping while he catches another nap, though if i'm feeling really lucky, i'll try and have myself a cafe breakfast. last friday, i wheeled us up the ramp at albert street food and wine, dark and imposing as an old bank (which it is) on the outside, but friendly and light within.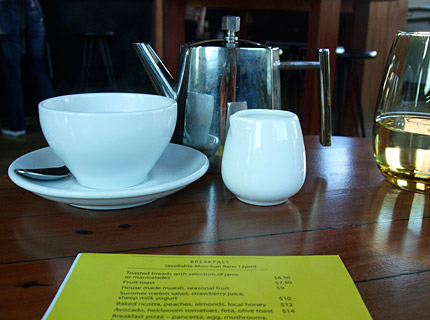 they bring water quickly at albert street, in elegant gold-tinted glasses, and take drink orders straight up. however, they may then take 15 minutes or so to come back and take your food order, even if there are only a couple of other tables to attend to. this means that a baby might have awoken in his pram in the meantime, and might — after a little bit of quiet reflection — require some attention. we chatted for a bit, and then admired the industrial fittings and high ceilings, and then eventually the waitress thought to check in and see if we wanted breakfast. when i placed my order for the baked ricotta with peaches, the waitress warned, "it will be a good 15 minutes, because it is baked to order, but if you have the time it is worth it!"
i made a quick calculation in my head, balancing out recent feeds and naps: 15 minutes, no problem. and then we sat and waited. the rolling stones were on repeat, and for a while harlan was happy enough bouncing along. he looked out the windows into the street. i sipped tea. he watched the other small children on either side of us. and then we got up for a bit and wandered through the adjoining food store — jams and terrines and house-made pickles; chocolate and wine and olive oil; a basket of heirloom tomatoes, perfect as jewels… and then we waited some more. 15 minutes takes a while sometimes, and seemed to take even longer when the tables around us, who hadn't ordered the baked ricotta, were getting their mueslis and breakfast piadini delivered.
and finally, finally, just as harlan progressed from spirited fidgeting to low-grade growling, the waitress brought this shallow dish to the table:
well! it was not what i was expecting. on the menu, simply listed as "baked ricotta, peaches, almonds, local honey", it gave no clues. and i mean, baked ricotta, right? you see it in delis, it's a cake of ricotta still indented all over with the grooves from the plastic tub in which it is set, and the counterperson will cut you a wedge: under its brown skin, it's cold and dense. here was a veritable golden pudding, all dusted in powdered sugar and drizzled with honey, with little peaks of chopped up peaches peering tantalising through the surface.
it really was quite lovely. peach juicy and perfumed, cakier towards the edges, and still moist and eggy in the middle, punctuated by the crunch from the toasted flaked almonds. alas, two mouthfuls in, harlan decided that the half hour he'd waited was enough; 15 minutes of waiting to order, and 15 minutes of waiting for food had exhausted his goodwill. which was fair enough, really.
when quiet reasoning failed, i thought i might have to leave the rest of my breakfast. the toddler across the room had already thrown a high-pitched screaming tantrum some minutes earlier, so i didn't feel i could inflict upon the dining room another grumble. but when i stood up to put the child back in the pram, he fell silent.
and so, yes, i did eat the remainder of my pudding, standing up and rather a bit quicker than i would have normally… but as the waitress said, it was worth it.