sometimes you just gotta.
case in point: late sunday morning, we popped into the breadtop in the mall (post-chinatown-roast-meat-shopping and en route to brown rice nori rolls) for a bun or two. we ended up with four, and one of them was this golden brown spring roll bun.
a filling of peppery minced pork with carrots and bamboo shoots encased in a soft white bun, wrapped in spring roll skin, then deep fried. you couldn't have resisted either, could you?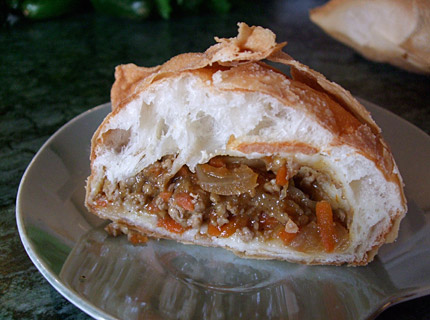 the wrapper was still crunchy, the bun a little chewy from its time in the deep frier. the filling was five-spicy, and almost like that of an old skool australian-chinese spring roll. could've done with a bit of shredded cabbage though.
i kind of wished i had another one, once this was gone… but the fact is i did have a taro bun to attend to.