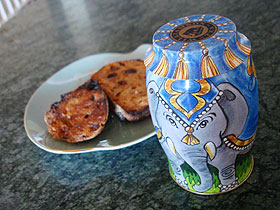 o you don't know how much i've coveted these elephant tea caddies. i've wanted one forever. this one, 30% off at the david jones winter sale, is filled with a hearty breakfast tea that makes me slurp it up, lean back and say, "AHHH," in a most contented manner.
i've had a good run of breakfast toast of late. you may remember the morpeth olive toast with honey. i've just finished a loaf of excellent spelt sourdough fruit bread from sonoma, perfect with salty butter and a generous shower of cinnamon sugar.
i am excited about the bread i bought today: polish rye with caraway seeds. it would ordinarily be the foil to a lick of vegemite… but i've freshly run out. well, the kid ate the last bit on a bit of burgen soy and linseed this morning. no matter, i think it will be just as good with a slathering of sour cherry jam.
man, i sure hope i have some sour cherry jam hiding out in the back of the fridge.