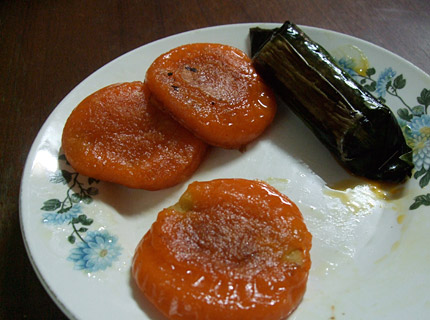 which is not to say i eschewed cakes of other colours. never! of course, cake in a wide range of hues was eaten during our long-gone holiday. (long-gone when i began to write this, and now, weeks later, long-long-long gone.)
these charred and glisteny things were had in malaysia, in the house of my grandmother. ang ku kueh (lit. red tortoise cakes) — glutinous rice pastry, moulded to look like the shell of a tortoise, wrapped around sweetened mung bean paste — has a tendency to be mouth after mushy mouth of mush. leftover ang ku kueh, lightly pan fried so a crusty, caramelised skin forms, is a whole other level of sublime. this simple process has made me see ang ku kueh in a new light. but then, when has frying not made a thing better?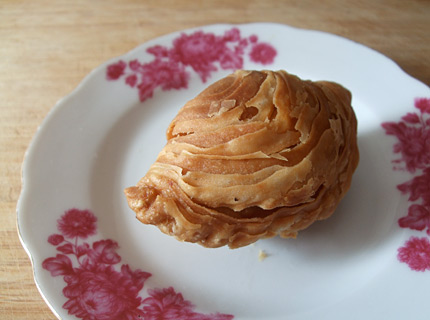 here: a homemade curry puff, another in the long line of tasty treats to come from my grandmother's kitchen (this one by way of a particularly talented aunt). the filling is a basic potato curry, comforting and familiar. the star is the pastry: two doughs — one of oil and the other of water — folded together; they separate as they bake, into layers of crispy-flakey. my mother said something about each curry puff being the equivalent of a day's requirements of cholesterol. that day i had three.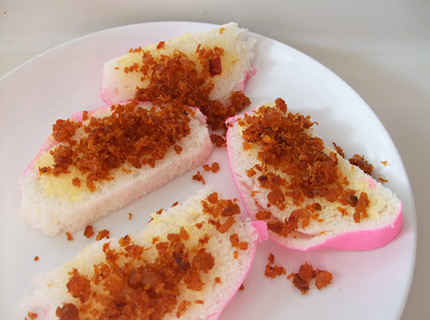 we also came away with a small supply of mee ku (lit. tortoise bun — what is it with the hokkien people and their predilection for tortoise-shaped comestibles?). simple airy white bread, painted pink and steamed, it is an all-round canvas to all manner of topping, from a lick of kaya to a slab of roasted pork belly stewed in thick black soy sauce. also: a crunchy condiment (also from my grandmother's kitchen) of spicy dried prawns. the bread goes first, almost dissolves in your mouth, leaving the little crunchy bits of prawns and garlic to be nibbled on for a little longer.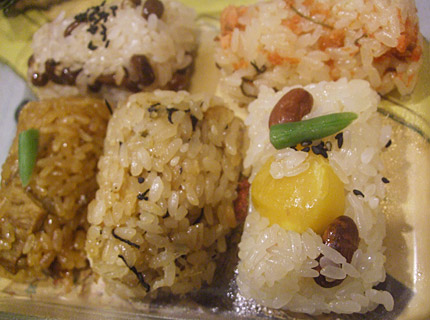 here's another savoury cake. to be precise, a bento of snacksized portions of glutinous rice from yonehachi okowa, into which flavouring ingredients like red beans or seaweed or salmon or glisteny, oily pork, or sweet, toothsome chestnuts have been mixed. the vats of rice are located just by the takashimaya food hall escalators, and i passed them by on many an occasion (always casting them a longing gaze) before i finally bit at the sampler. i should have bitten sooner! each nugget was lip-smackingly tasty, and almost convincing as a wholesome meal, instead of the pile of glycaemic-boosting, oily sticky rice which they collectively comprised.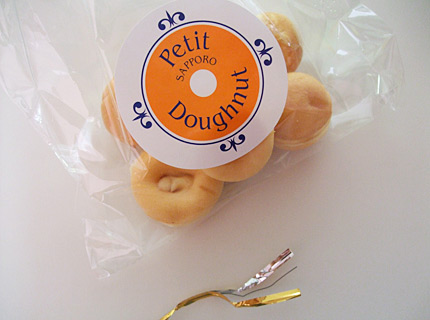 at the other end of the food hall we found sapporo petit doughnuts. these are cooked in moulds much like obanyaki (the puck-shaked pancakes filled with bean paste… or laughing cow) or taiyaki (the fish-shaped ones)… and therein lies my problem with them. i like pancakes, i really do. but when i've been led to expect doughnuts, then a bland, spongy, little nubblet — albeit doughnut shaped — stuffed with a mildly sweet (overly starchy) strawberry-flavoured pink custard just isn't going to do it for me. the sperical ones with a milk custard filling were equally uninspiring.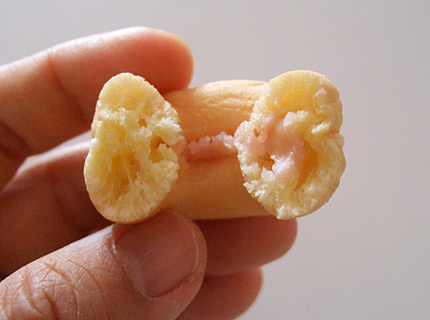 is it because we didn't eat 'em hot? they weren't even packaged up straight from the pan. alas, i shall never find out, as i will not be giving them a second chance.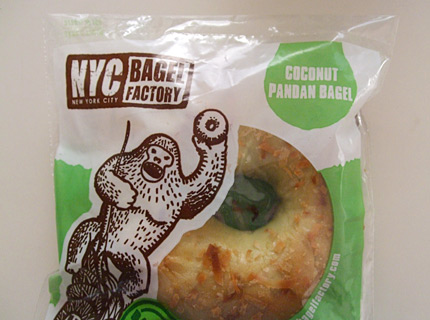 i thought i might get another go at the coconut pandan bagel, from NYC bagel factory (baked fresh every day in bedok north). i don't know if mine was baked fresh the day i got it, in a sealed bag in the bread aisle at our local supermarket. fresh out of the bag, it was promisingly fragrant. look at those toasted coconut shavings!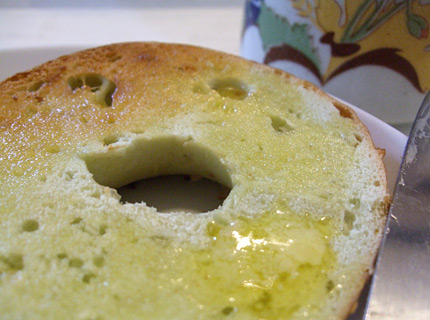 i toasted it, and then because my mother's fridge was lacking in suitable condiments, i had it with a mere smear of margarine. this is of course, a more "authentic" topping, though not as authentic if it'd been scraped from a monster tin of planta. still, i think i'd much rather have had a swirl of kaya, or condensed milk… maybe even some of those sambal dried prawns. next time…
i had not been to toast in some years, partly because i could never remember how to find my way to the secret hidden corner in ngee ann city. but my memories were of a sweet pink cafe, with a scallop-edged logo, a homely sandwich called "sardine istimewa" — the special sardine, and a host of cupcakes. it's much more sleek these days, and there is not a sardine sandwich on the menu (you can get tuna instead), but the cakes are pretty much the same. or are they?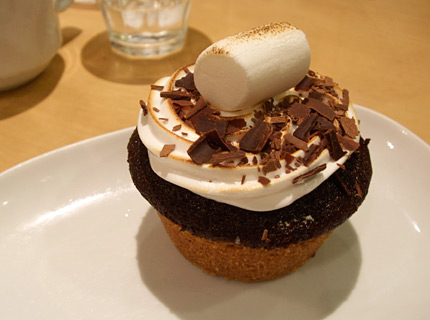 after a big, fat egg & cress sandwich, the kid chose the s'mores cupcake. what a beauty! there is toasted marchmallow, and chocolate, and…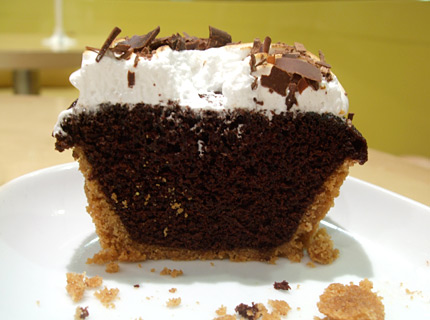 a graham cracker crust! amazing. we wondered at the architectural feat, and the kid devoured the marshmallow topping, and then the cake more of less crumbled into a pile of dry crumbs. huh. well, that was disappointing.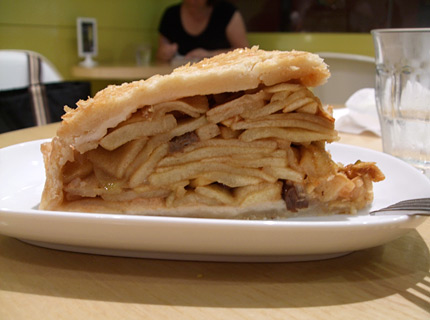 i had an enormous plate of three delicious salads, and then i went back to the counter and ordered this enormous slice of apple pie. it should have been good, dammit. how could it not? a thing of beauty, and mostly apple. i suppose the apples were fine. the pastry, however, was not light or crisp. it was just a little bit flabby and flaccid.
but this was a lesson i learnt a while ago: in singapore, the taste of western-style cakes rarely lives up to their appearance.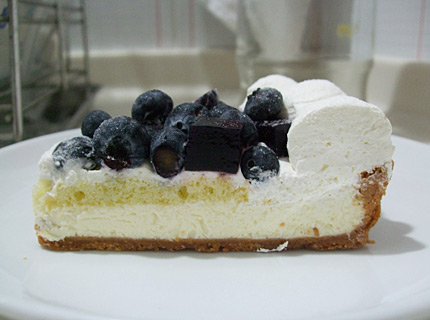 now, in the display case of fruit paradise, where the choices are fruit tarts, fruits tarts and fruits tarts — the singaporean take on the japanese take on french fruit tarts — the actual cakes are placed side by side with their plastic counterparts. when i first encountered them a couple of years ago, i couldn't tell the difference between the two. i suspect the only difference is that the edible one is softer: each tart is composed of mainly creme patissier and whipped cream, maybe a bit of light sponge, topped with a variety of picture-perfect fresh fruit. we picked the blueberry tart, which had fresh blueberries as well as cubes of blueberry jelly. it made for a nice five minutes, as we stood at our kitchen counter late one night, eating it far too quickly. after all, we didn't have to chew.
also not requiring mastication: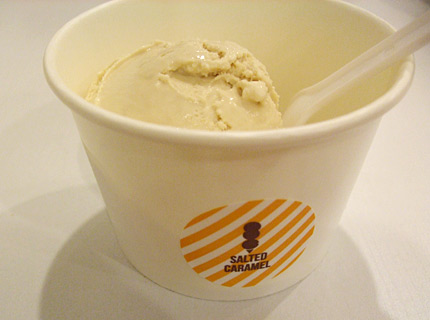 a scoop of salted caramel ice cream, from salted caramel. i'd just come from a dinner of a monstrous sardine murtabak a couple of doors down, so i only had a tasting portion of the house speciality. it was, as you might expect, sweet and salty and creamy. which is fine and all, but i wanted more from it! they named the shop after it, no? i imagine it would've been more memorable had it been "saltier" and more "caramelicious". maybe my expectations were buoyed by the logo, so striking; in contrast, the ice cream, so beige.
close to the end of our trip, i still had not paid a visit to the ice cream uncles of orchard road, with their soft rainbow bread, pink wafers and blocks of cheap, airy ice cream from which they'll cut you a slice for your $1 ice cream sandwich. i didn't regret it. instead, i steered the proceedings to the wellness group.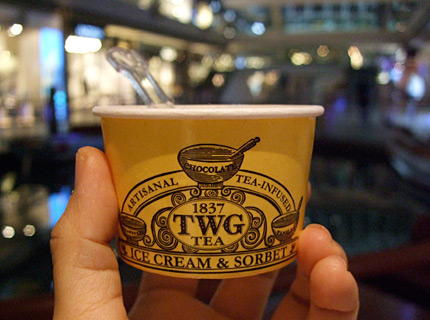 [ now. does this bit of packaging from not remind you of mariage freres? it wants you to believe the maison was fondeed in 1837, but this refers to the year the tea trade was made official in singapore. TWG is in fact only a handful of years old, co-founded by a man who, yes, did work at mariage freres. ]
there are a couple of branches of TWG at marina bay sands. from the one where you can eat on a bridge over the indoor canal and watch the gondolas go past, you can also buy ice cream by the scoop and stroll along the promenade. this is superpremium stuff, as evidenced by the $5 per scoop pricetag, all infused with a range of TWG teas. my cup of white night jasmine tea ice cream was quite delicious and lush, voluptuous on my tongue.
i wish i could show you the ice cream i had at the daily scoop, at holland village, which was avocado, a vision in pale green. however, i was too busy eating it. i'd felt a bit squeamish ordering it — a sweet-savoury-anticipatory issue, which turned out to be unfounded: it was all pleasant verdancy.
i wish i could have posted this weeks and weeks ago, when i started writing it. however i was too busy… i dunno. working? there is a bunch of money in my bank account, so the time must've been spent productively.
i wish i could be somewhere else. figuratively, literally, anywhere but here.